Formula 1 Holiday to Iconic Circuits and Cities
Geneva ▸ Alba ▸ Monte Carlo ▸ Compiano ▸ Bologna ▸ Sirmione ▸ Milan
Join us on a luxury Formula 1 tour and pay homage to racing's most beautiful locales and famous circuits — the ultimate bucket-list holiday for any F1 fan or passionate motoring enthusiast.
From Monte Carlo to Maranello, Monza, and Imola, you'll visit some of the most historic places on the F1 calendar. You'll also stay in stunning accommodation, drive the greatest modern supercars, and explore Switzerland, France, and Italy's most scenic countryside.
Your luxury adventure commences with an evening shared with racing royalty, Sir Jackie Stewart, the perfect way to start the F1 tour of a lifetime. Enquire today to reserve your place on the World Champions Tour.
* Details and pricing are tentative until dates are confirmed.
Experience your unforgettable F1 tour and driving holiday
Small Exclusive Groups

Our Fleet (Drive All Cars)

Duration: 8 days / 7 nights

Driving: 4 days / 1,200 km

Tour Start: Geneva, Switzerland

Tour End: Milan, Italy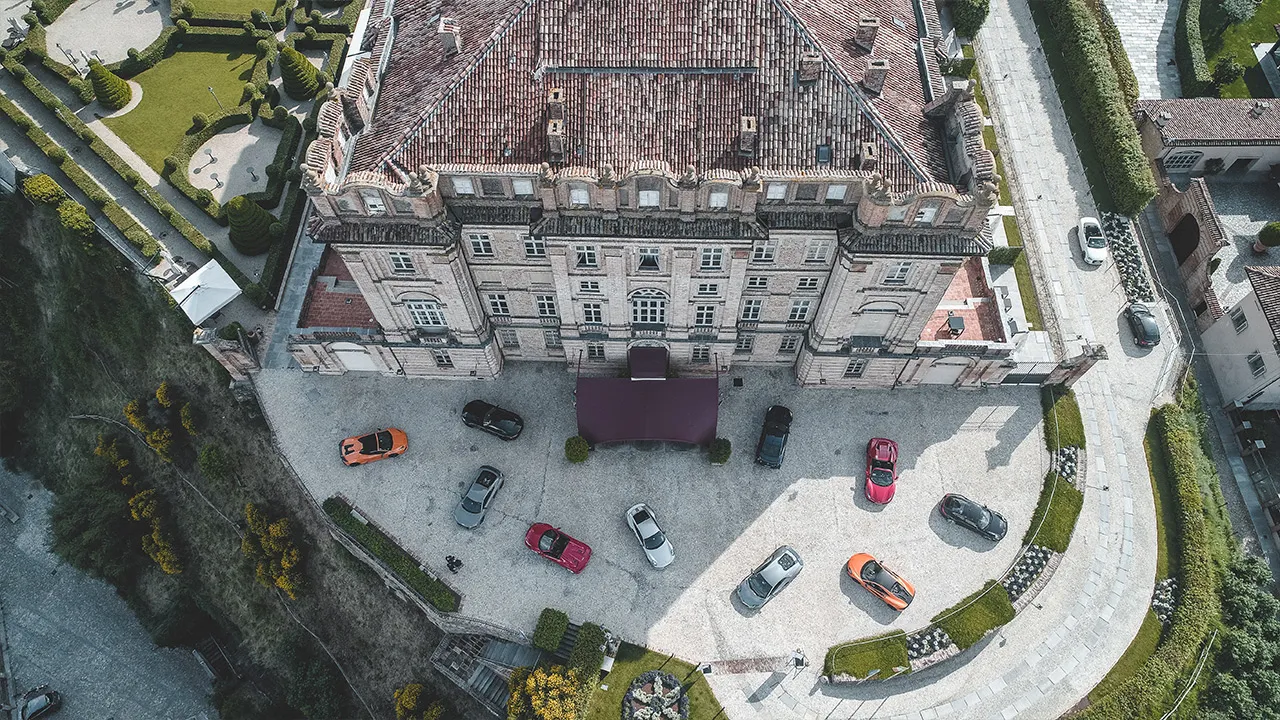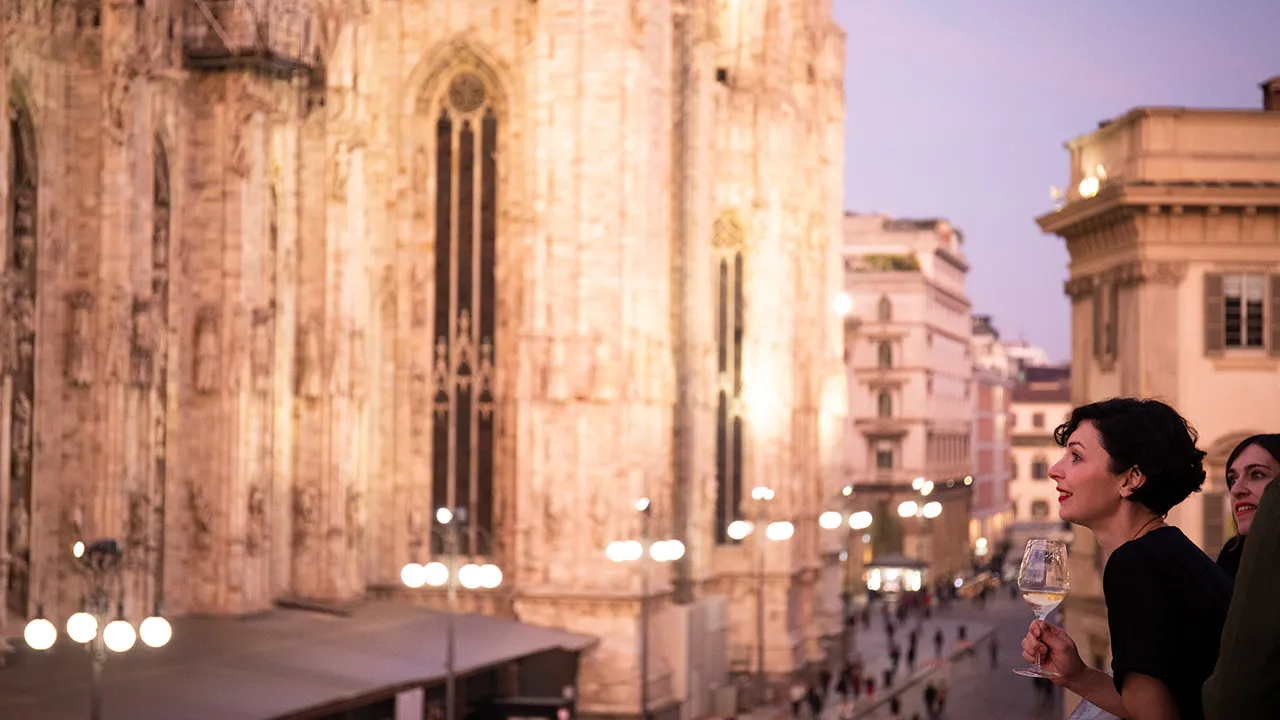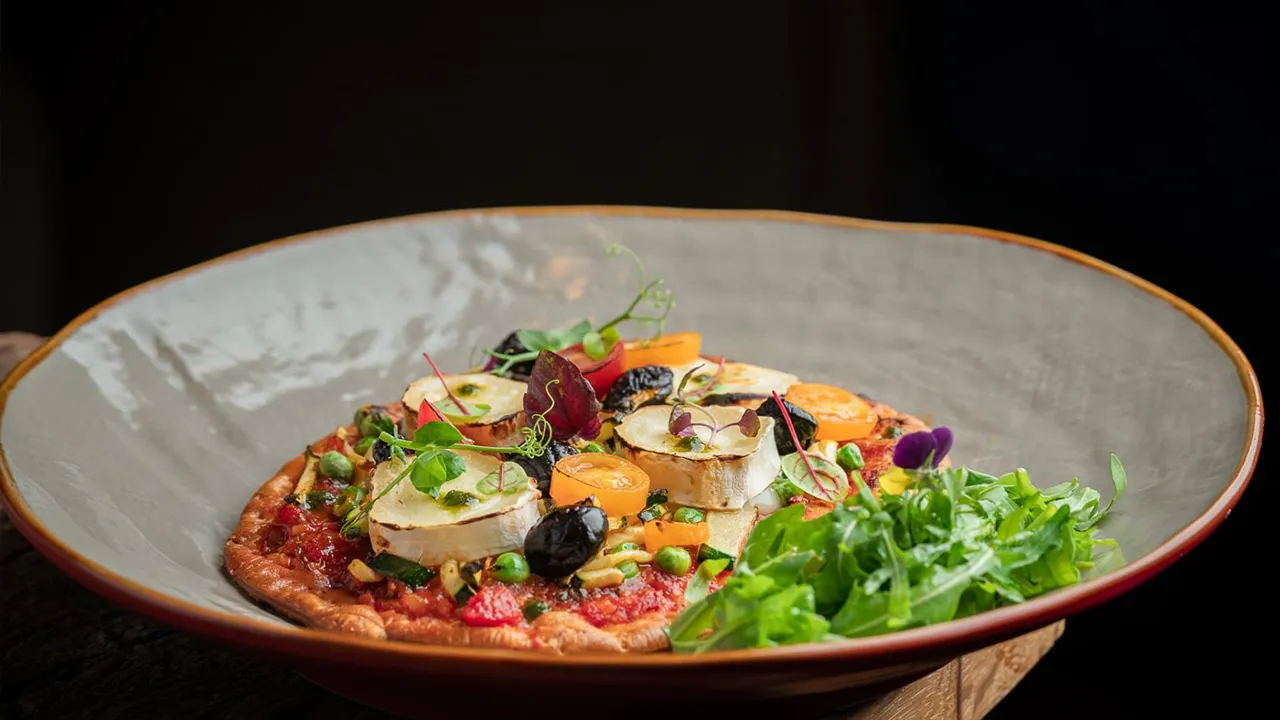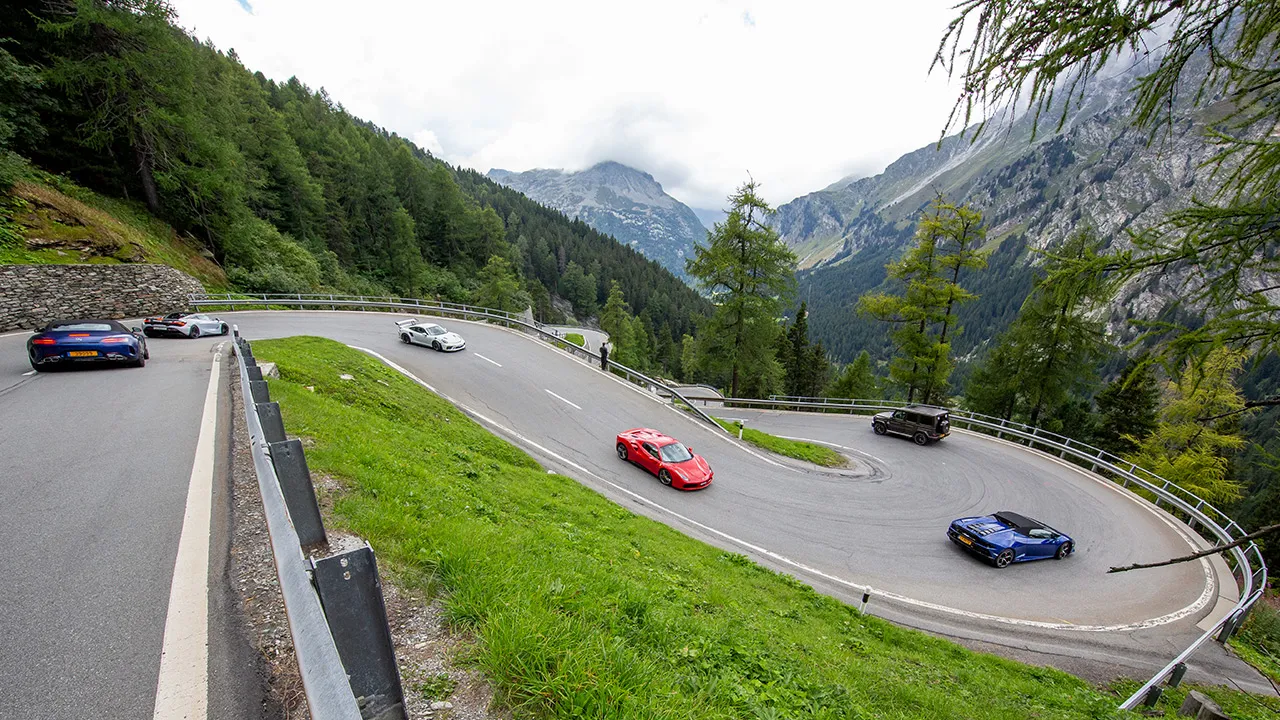 Prepare to go from 0-100
Drive the fastest supercars from marques including Ferrari, Lamborghini, McLaren, and more. We have one rule on this tour: all cars must go 0-100 km/h (0-60 mph) in less than 3.5 seconds.
Unlock your supercar's performance
Spend four days putting supercars through their paces on some of the world's best motorways and mountain passes in Switzerland, France, and Italy.
Meet motorsport royalty
Complete your Formula 1 holiday with an intimate evening with three-time F1 World Champion and all-round motorsport legend, Sir Jackie Stewart.
Don your tuxedos and ball gowns
Enjoy an aperitif at the Cafe de Paris in Monaco — a renowned car spotting hub, then don your tux and try your luck at the Casino de Monte Carlo.
Discover F1 history
Visit the infamous Imola Circuit and lay a wreath at the Ayrton Senna Memorial before spending the afternoon enjoying guided tours of the Ferrari and Lamborghini museums.
Explore the historic Monza Circuit
No F1 tour would be complete without a guided tour of the legendary Autodromo Nazionale Monza—the 'Temple of Speed'—to experience one of Formula 1's most historic circuits.
Enjoy bespoke accommodation
Stay in an array of boutique luxury hotels, ornate converted castles, and stunning villas along the route and dine at renowned restaurants each evening.
from

$

24990

$

19990

£

13990

per person*
*based on two guests per vehicle and in a shared room
An overview of your luxury Formula 1 tour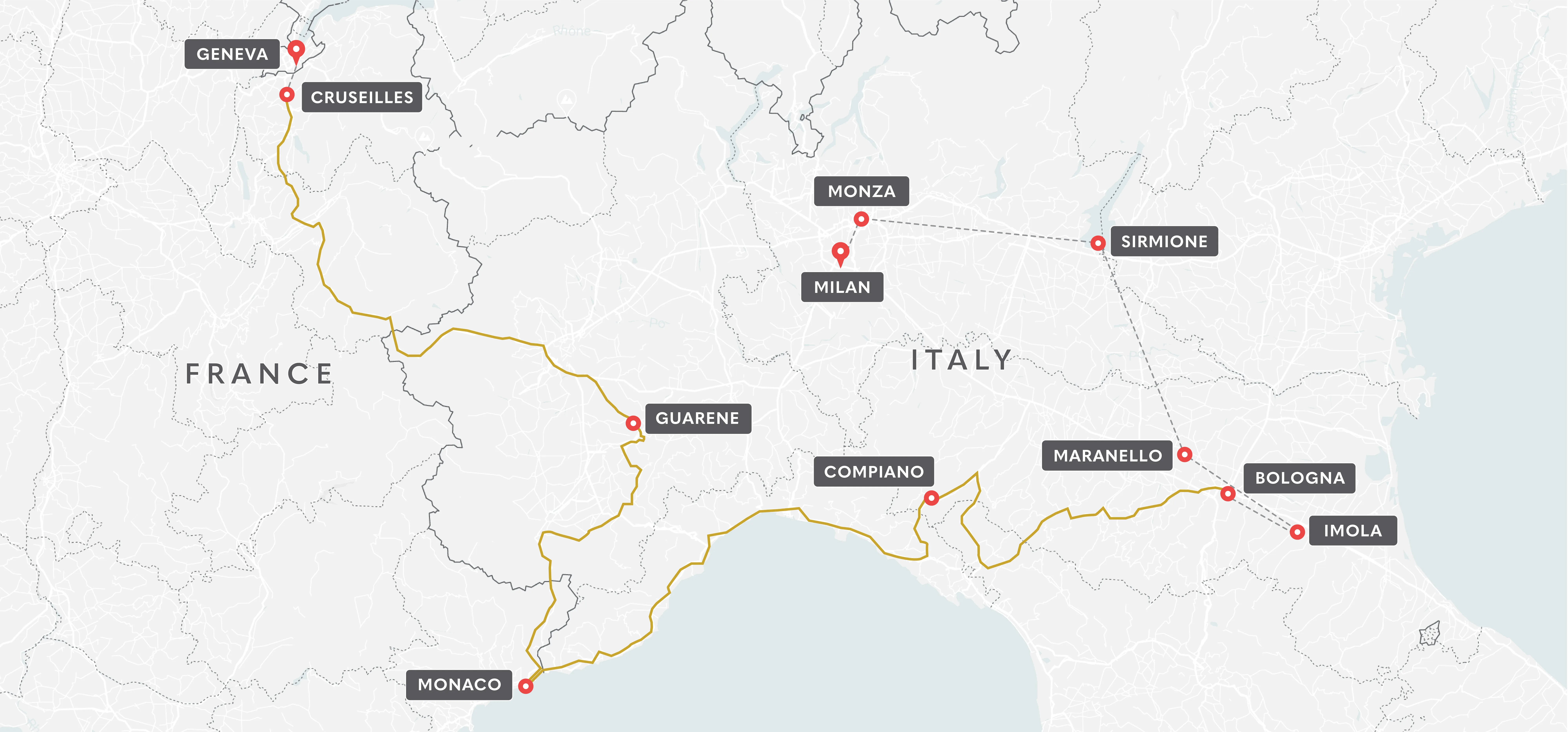 Day 1
Arrival in Geneva | Dinner with Sir Jackie Stewart
After arriving in Geneva, spend the afternoon relaxing at your luxurious château accommodation. Sip champagne and watch the sun set over Lake Annecy before kicking off your Formula One tour with an evening with F1 legend, Sir Jackie Stewart.
The first drive day of your supercar driving tour warms up with a run through a picturesque national park on the French-Swiss border. From here, you'll take the Col du Grand Saint Bernard across into Italy before arriving at a breathtaking castle hotel.
Today's drive will see you traverse the Piedmonte wine region before crossing into France's Maritime Alps, enjoying sections of the Monte Carlo Rally including Col de Braus. Later, arrive in Monte Carlo where you'll complete a lap of the legendary Circuit de Monaco.
On your third day of driving the group will head east into Italy on the fast-paced Autostrada that runs along the Ligurian coastline. From here you cross up into the tighter hillside roads of Emilia-Romagna, spending the evening at a magnificent castle.
Your fourth and final day of driving will take the group along the alpine roads that crisscross through Emilia-Romagna and Tuscany. These technical roads are complemented by stunning alpine scenery intermixed with views over Tuscany's vine covered hillsides.
Day 6
Imola, Maranello & Sant'agata
Today, you will visit Imola Circuit and pay homage to an F1 icon who lost his life at the circuit at the Senna Memorial. In the afternoon the group will be transferred up to Bologna and Maranello for guided tours of Ferrari and Lamborghini museums.
On Saturday, the group will enjoy a private tour of Monza Circuit, which hosts one of the longest running races in the F1 Calendar. Walk the start-finish line and the old banked circuit before standing on the podium where many GP winners have stood before.
Day 8
Departure | Onward Travel
Enjoy a sleep-in and a leisurely breakfast. Check-out from the hotel is midday. From here the day is yours before transfers and onward travel plans.
from

$

24990

$

19990

£

13990

per person*
*based on two guests per vehicle and in a shared room
The incredible supercars you'll drive on your bucket-list F1 tour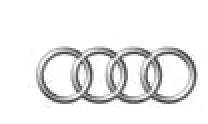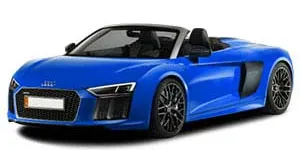 Audi R8 V10 Spider
If you're hungry for a gorgeous, driver-friendly supercar that's quick-as-lightning, the new release update to the incredible R8 delivers, and then some. Consider your wish granted.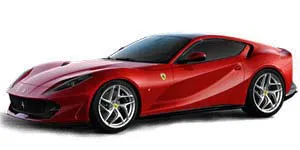 Ferrari 812 Superfast
Enzo Ferrari said that only a true Ferrari has 12 cylinders and an engine up front. Welcome to the 812, which delivers in spades - 800HP, a 0-100 sprint in 2.9s and a top speed of 340kph. Superfast indeed.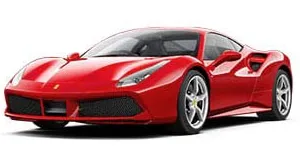 Ferrari 488 GTB / Spider
The successor to the adored 458 sees the eager-revving and naturally aspirated V8 retired in favour of a turbocharged powerplant. This supercar will propel you from 0 - 100 in just three seconds.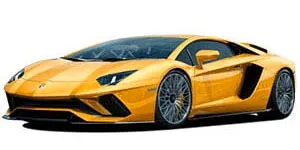 Lamborghini Aventador S
With a top speed listed simply as 'more than 350km/hr', the Lamborghini Aventador S is brutally powerful, obscenely flamboyant, and always a fan favourite!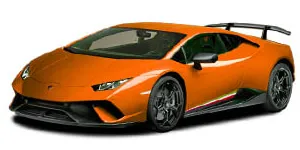 Lamborghini Huracan Performante
The Huracan is a fantastic combination of fast, loud, and sharp. With an ingenious 4WD system, the Performante offers impressive technical specs and performance to boot.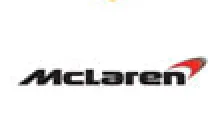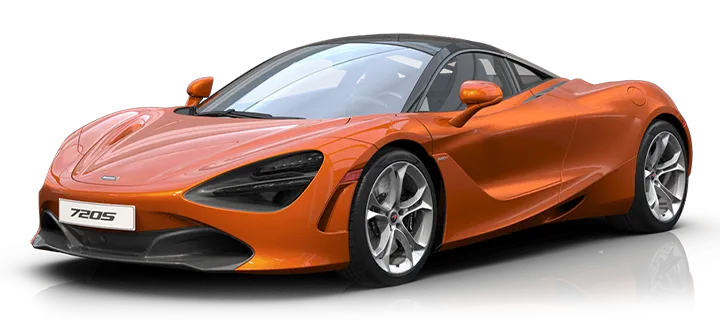 McLaren 720S
Be warned: while there are many fast cars out there, few have the performance capabilities that require drivers to up their game so profoundly. Are you ready for this beast?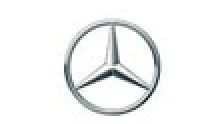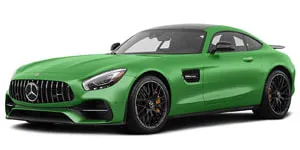 Mercedes AMG GTR
With a dauntingly low driving position, way back over the rear axle, the devastatingly handsome GTR draws heavily on the lauded SLS. An agile yet comfortable grand tourer.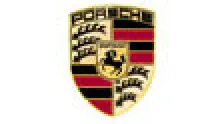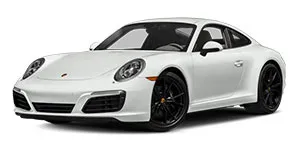 Porsche 911 Turbo
For decades, the 911 has been the stuff of legend - a title it continues to claim today. Capable in all situations, this precision instrument remains a timeless inclusion on our tours.
from

$

24990

$

19990

£

13990

per person*
*based on two guests per vehicle and in a shared room
View your Formula 1 tour in action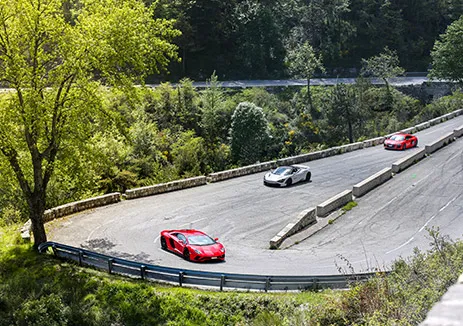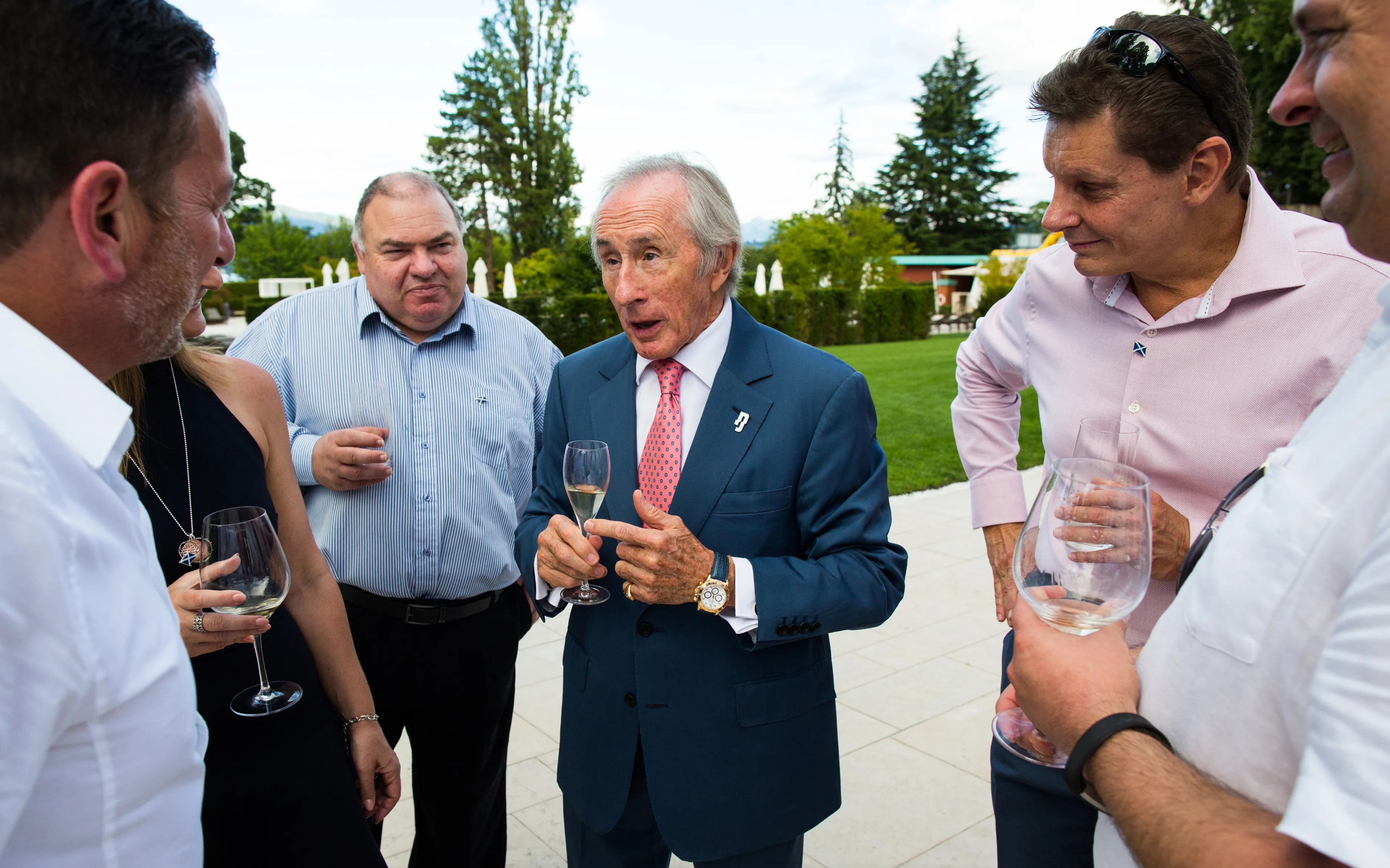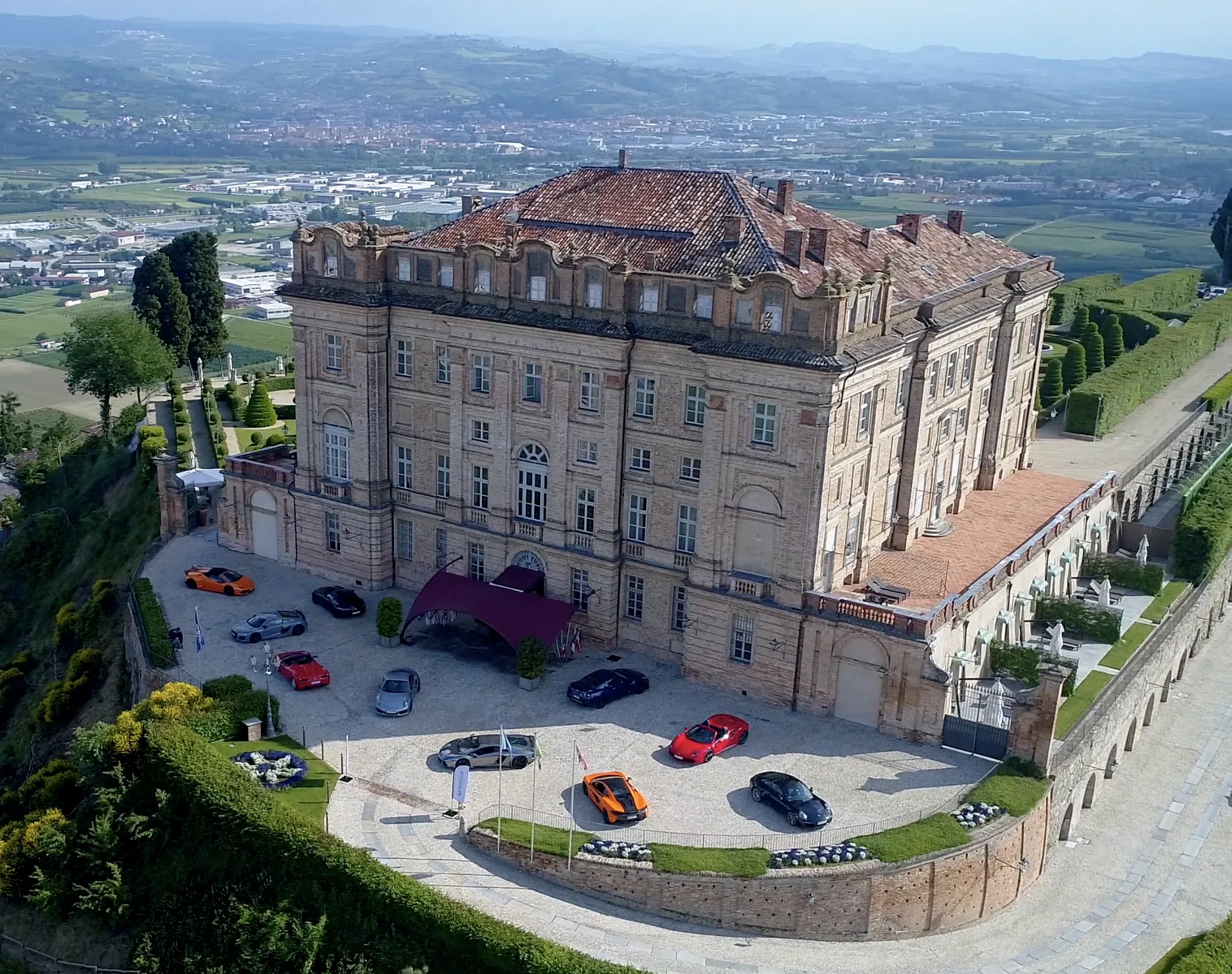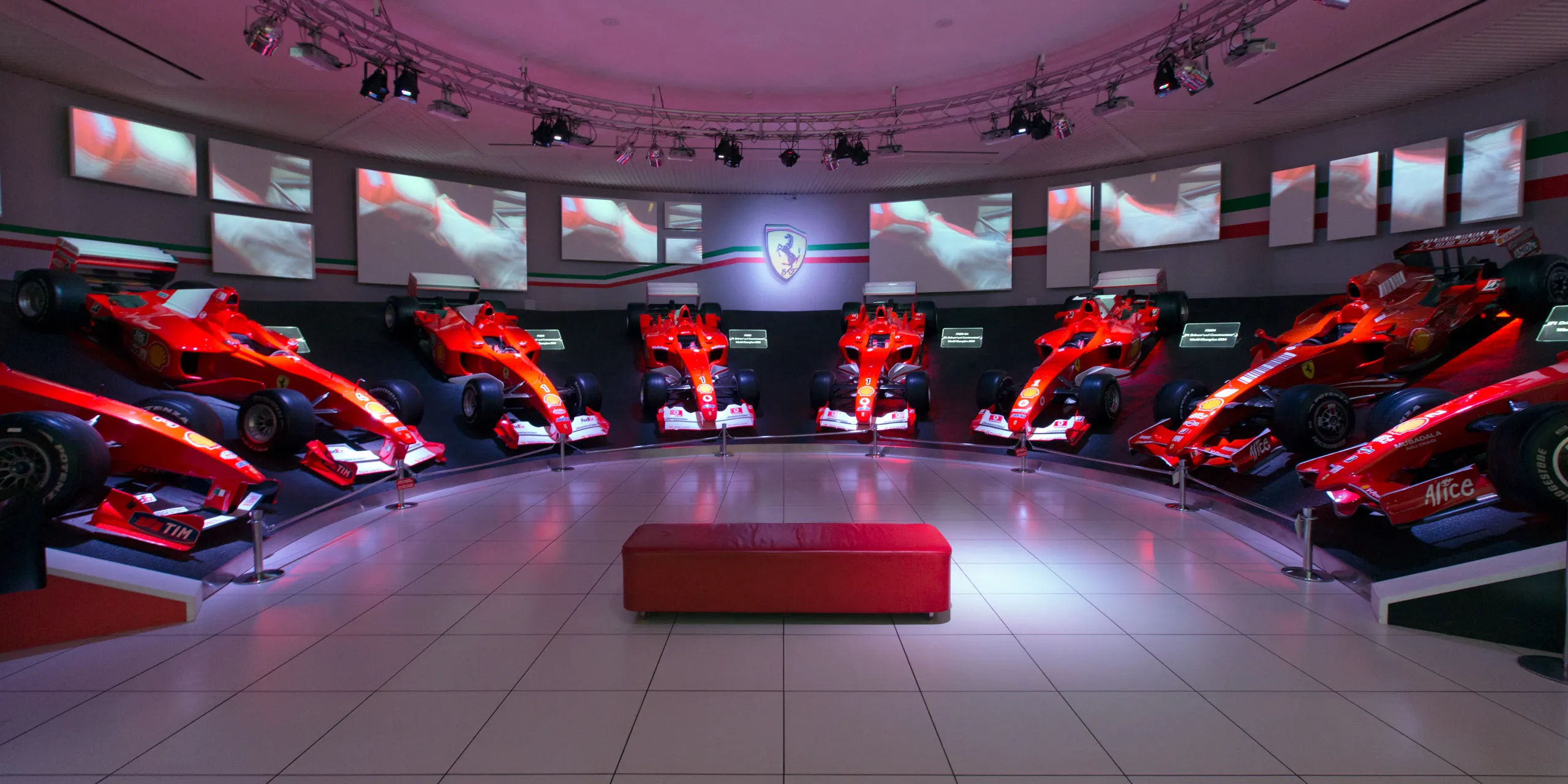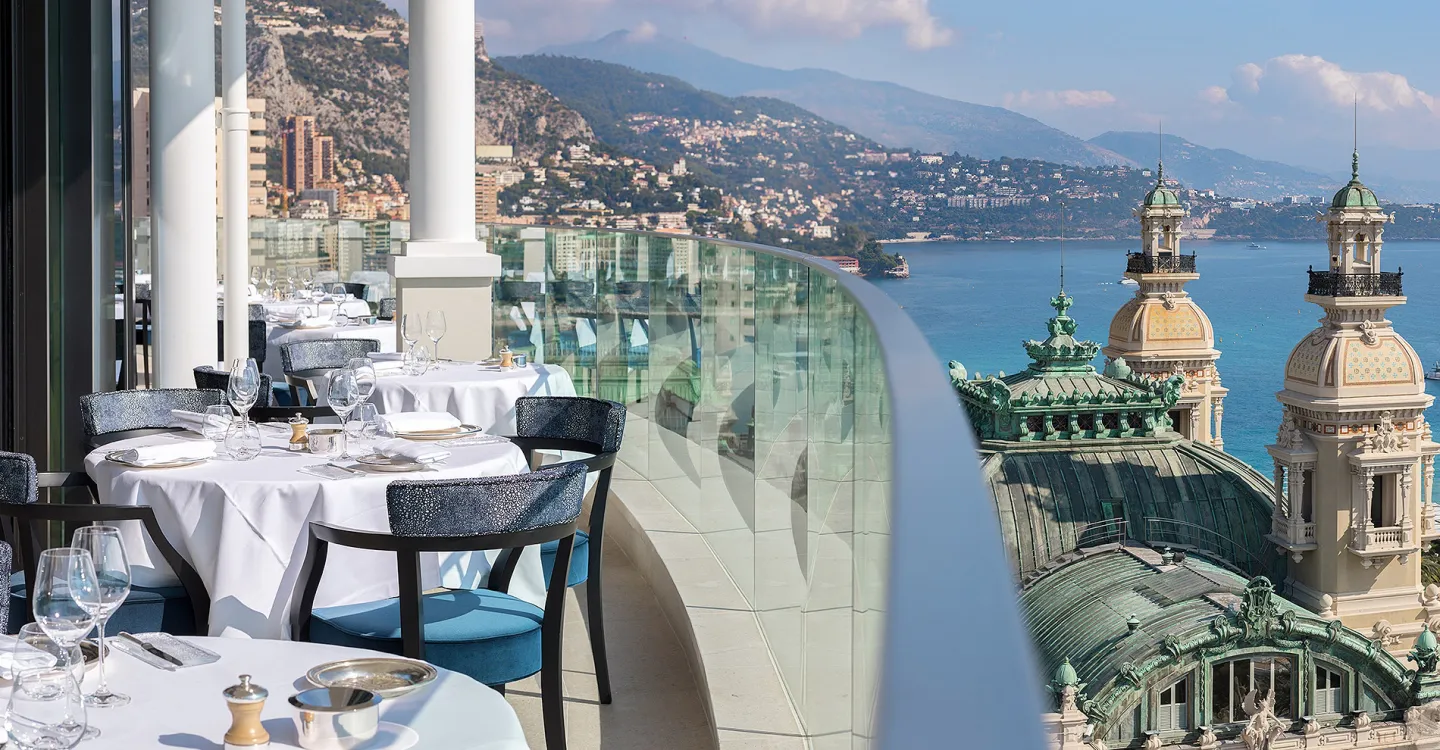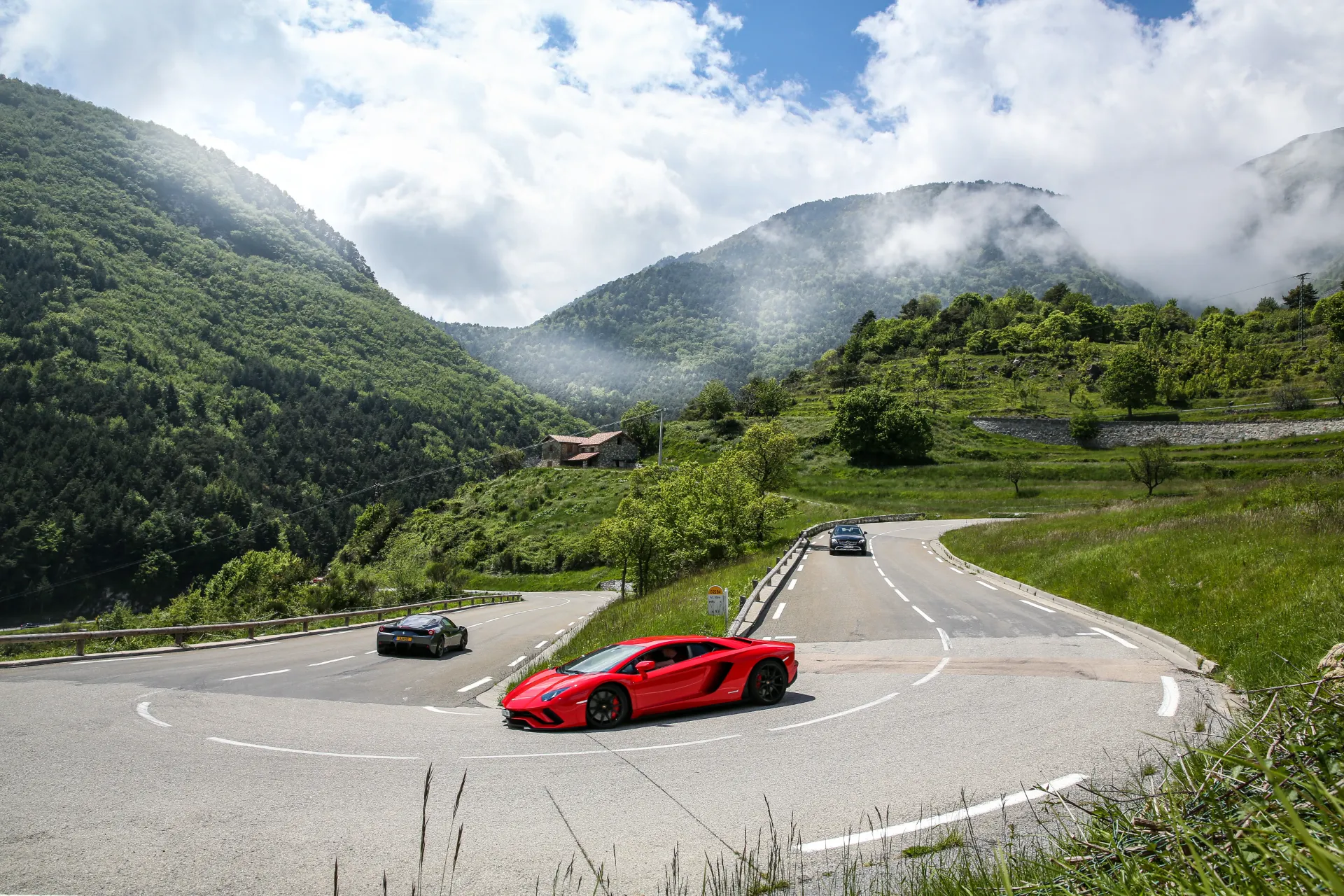 from

$

24990

$

19990

£

13990

per person*
*based on two guests per vehicle and in a shared room
Customise your luxury Formula 1 holiday
Our tours are designed to be end-to-end luxury travel experiences that consider every detail from the moment you arrive to the moment you depart.
Your final tour investment comprises your Tour Package (as outlined above) and any Optional Add-Ons you choose to include. Please view the tour brochure for a full list of inclusions.
Choose your preferred currency
Tour Package
Double Occupancy
$
24990
$
19990
£
13990
per person
*Enquire for Single/Twin Occupancy
Optional Add-Ons
Upgrade your accommodation package

from

$

1090

$

850

£

650

per person
Payment Option
Monthly

$ 2000 deposit

$ 1500 deposit

£ 1000 deposit

+ $ 1915 per month

+ $ 1540 per month

+ £ 1080 per month

Quarterly

$ 2000 deposit

$ 3500 deposit

£ 3000 deposit

+ $ 6990 per quarter

+ $ 5490 per quarter

+ £ 3660 per quarter

In Full
*final pricing depends on optional add-ons.
Hear from past guests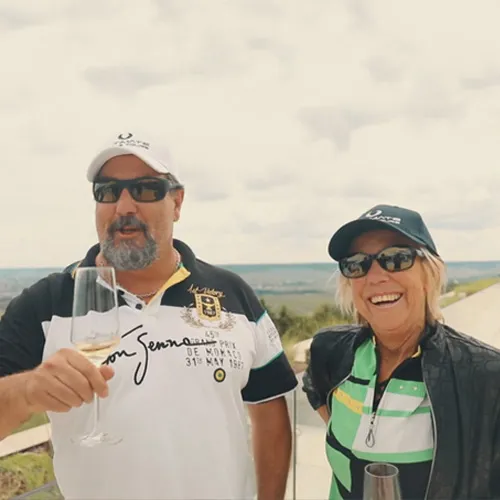 Probably the most fun you could ever have; it's beyond first class, it's a class of its own.
Chuck & Margo, USA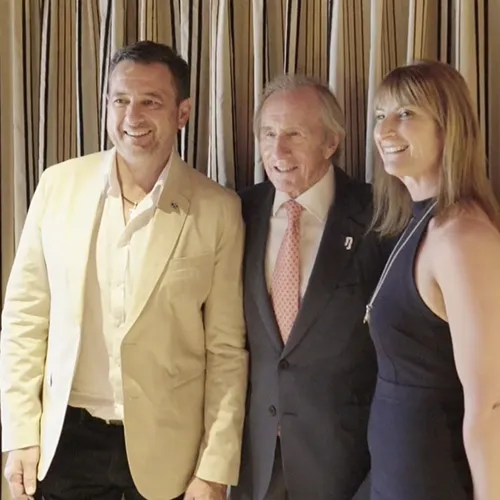 The tours are fantastic – the cars, the people, the hotels and restaurants, and the comradery.
Sab & Antonia, Australia