Are you ready for the ultimate Tasmanian driving experience? Back with big changes for its 31st annual edition, Targa Tasmania 2023 is bound to be an epic motoring event. Six days, 2000 kilometres, hundreds of special cars, and utterly incredible roads — what more could a motoring enthusiast ask for?
Our guide to Targa will dig deeper into Targa's rich history, uncover Tasmania's amazing locations, and find out why this tarmac rally should 100 per cent feature on your motoring bucket-list.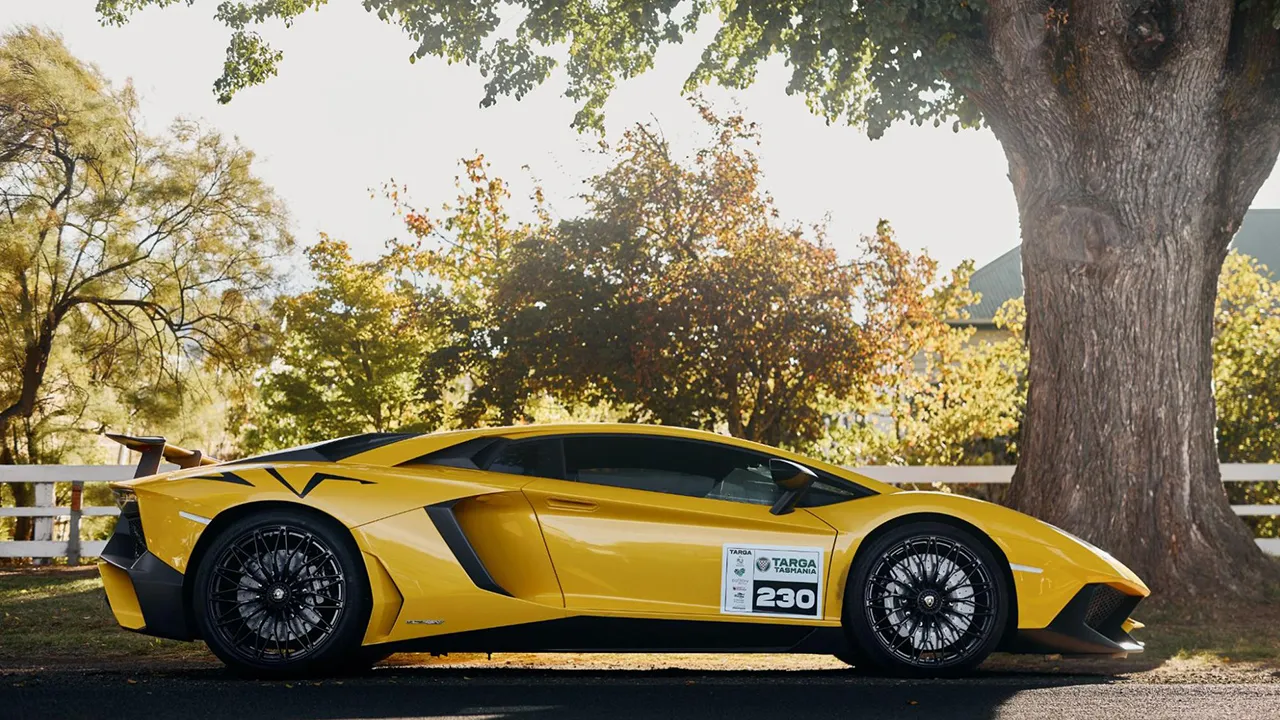 Image: Ultimate Driving Tours
What is Targa Tasmania?
The global Targa brand stretches back further than the amazing Targa Tasmania event we know and love today. Its name is inspired by the original Targa Florio, a truly wild road race in Sicily the likes of which would never be seen today; if you can, try to imagine a Porsche 919 Hybrid tackling 72 kilometres of Italian countryside, at speed, on public roads, while cattle and pedestrians roam free … simply crazy.
Targa history
The first Targa race took place in 1906 before becoming part of the Worlds Sportscar Championship from 1955 to 1973, but it was eventually discontinued in 1977 due to safety concerns. The race was seen as a death wish for anyone but the most skilled drivers, which only added to their legendary status.
Fun fact: in an attempt to reduce weight, most of the cars that took part were open-topped roadsters. Over the years, Porsche emerged as the most successful marque in the race and responded by naming its open-top 1967 911 Targa to commemorate the car's racing prowess.
In 1990, a brainstorming session between Max Stahl and John Large about a tarmac rally involving classic cars and Tasmania's picturesque roads turned into a framework for what we know today. Thanks to the support of fellow motoring enthusiasts and a lot of careful planning, the inaugural Targa Tasmania rally took place in 1992. It is now one of the world's best tarmac rallies and definitely ranks as one of our favourite events.
Event categories
Each year, the event is divided into two main categories; competitive and non-competitive. The competitive arm of the rally is governed by Motorsport Australia and sees drivers aim to set the lowest time for each closed-road section, with the navigator equipped with pace notes. Cars must be fitted with a full roll cage and drivers are required to meet national safety standards including a full race suit and helmet.
The non-competitive section is known as the Targa tour and is what Ultimate Driving Tours and our guests experience each year as part of our luxury Tasmanian Driving Tour. Drivers in the non-competitive arm of the rally still enjoy the closed-road stages, albeit with guide cars and in a non-timed manner without pace notes. Vehicles are not required to be fitted with a roll cage and drivers and co-drivers are not required to wear a race suit or helmet.
This arm of the event is also limited to 120 km/h. But don't let the prospect of a speed limit fool you — that's more than enough speed to have an amazing time on these roads. The tour is enormous fun and the perfect opportunity to test your vehicle's performance and handling on some of Tasmania's best roads (both as part of Targa and on UDT's own routes), witness the state's exquisite landscapes first-hand, and enjoy some of Australia's finest food and wine.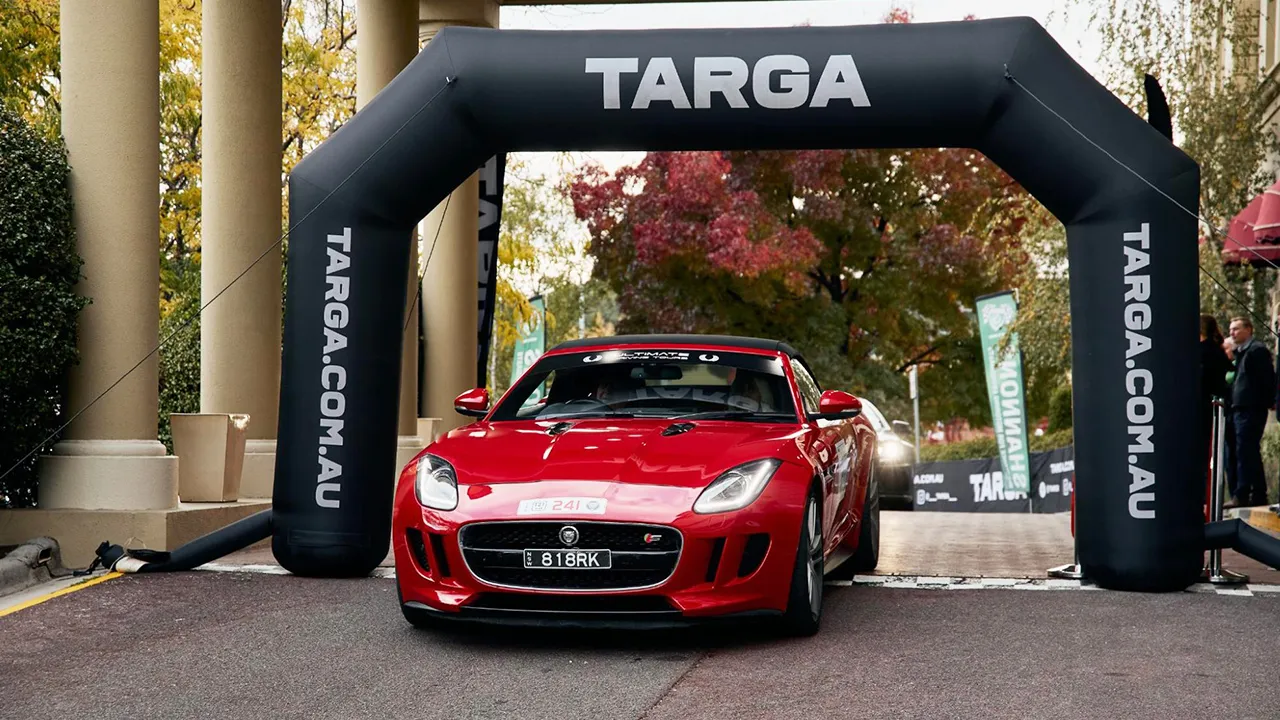 Image: Ultimate Driving Tours
Where is the Targa Tasmania Tarmac Rally Held?
You guessed it, as the name suggests the Targa Tasmania Tarmac Rally takes place on the enchanting island of Tasmania. The route covers a large proportion of the island over six days in a series of legs, each day of which is represented by its own leg.
Our Tasmanian Driving Tour joins up with Targa for a portion of the rally (we of course choose the best days to enjoy as part of our five-day driving holiday) — more details to come soon.
Outside of the closed-road action, guests will still experience all of the iconic roads, albeit at a slightly more leisurely pace, while also having the opportunity to stop and enjoy the must-see and do experiences the state has to offer. We like to think it's the very best of both worlds — part exhilarating racing, part bespoke luxury tour of Tasmania.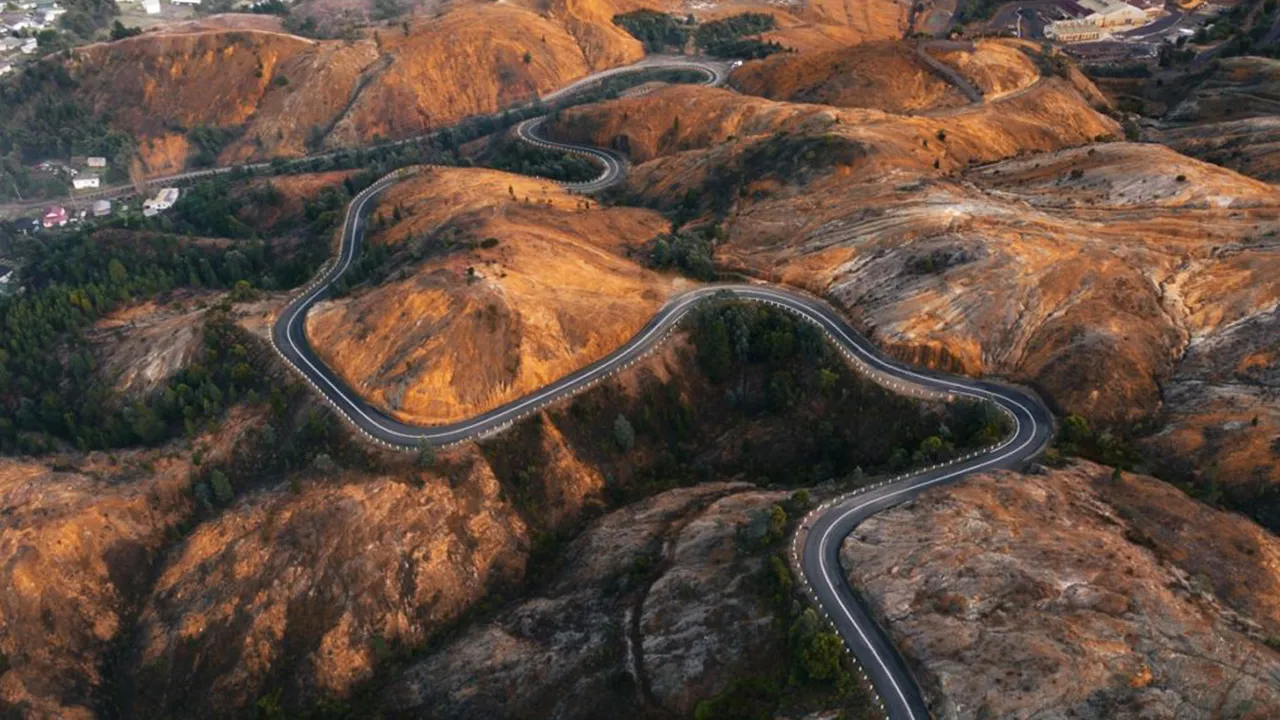 Image: We Seek Travel
Targa news: applications open, course revamp
Applications for the 2023 edition of Targa Tasmania are open, so enquire today if you would like to join Ultimate Driving Tours for our annual pilgrimage to Australia's motoring enthusiasts' paradise.
Targa 2023 features a heavily re-jigged route as part of the most significant change to the course in 15 years. Ultimate Driving Tours guests will enjoy a selection of the best rallying days, as well as exclusive routes and experiences away from the racing.
In 2023, the event will start and conclude in Hobart, following a truly epic route north-westwards, via Strahan to Launceston. Some of the world's finest driving roads can be found here, and the best part is that with the return trip, drivers will get to enjoy them in reverse. This not only builds familiarity and confidence behind the wheel, but also elevates your experience as you get a different take on the incredible scenery and scintillating corners.
Targa Tasmania 2023 dates and route
The 2023 event is confirmed for 17 – 22 April.
Let's take a closer look at the 2023 Targa Tasmania locations:
15 & 16 April: Pre-event activities (Overnight Hobart)
17 April: Ceremonial Start and Leg One (Overnight Hobart)
18 April: Leg Two (Overnight Strahan)
19 April: Leg Three (Overnight Launceston)
20 April: Leg Four (Overnight Launceston)
21 April: Leg Five (Overnight Strahan)
22 April: Leg Six and Official Finish (Overnight Hobart)
23 April: Trophy Collection and Presentation Dinner (Overnight Hobart)
Image: Ultimate Driving Tours
Autumn weather conditions in Tasmania
The event takes place in autumn, so while it won't be too chilly just yet, an extra layer or two in your suitcase won't go amiss. 'Tassie' is a fantastic destination to explore at this time of year — soft dappled light in the late afternoon brings out the magic in the landscapes. As the event takes place after daylight savings ends, meaning the sun will set a little earlier each evening than in summertime.
We hope to see popular competitors from previous years back for the challenge again in 2023. In the past, Targa Tasmania has seen driving greats tackle its route over the years, including the likes of Jim Richards, Peter Brock, Sir Jack Brabham, Denny Hulme, and the great Sir Stirling Moss. So keep an eye out, you may see some up-and-coming drivers at this renowned event.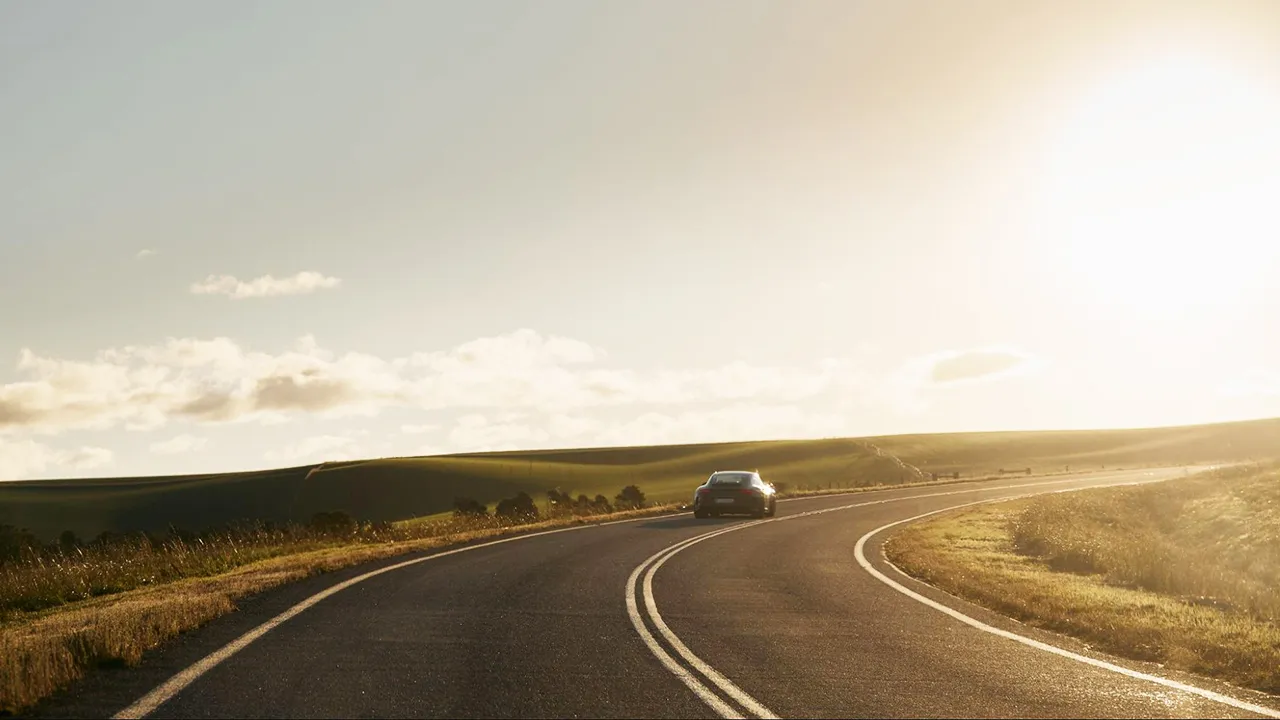 Image: Ultimate Driving Tours
Things to do in Tasmania in April
Outside of Targa Tasmania — or perhaps our luxury driving tour — there are endless experiences to enjoy on a visit to Tasmania in autumn. But with so much to do and see, what do you pick first? Allow us to share a selection of our favourites…
Enjoy world-class food and wine
Tasmania is lauded as Australia's premier food and wine destination and a must for any fellow 'foodies' out there. To the north of Launceston is Tamar Valley, where cool climes and rich soil meet to produce some seriously stand out wines from chardonnay, sparkling wine and pinot noir. Both Launceston and the Valley are a mecca for culinary fanatics and wine connoisseurs alike. Tamar Valley is also a contributor to Tasmania's legendary oyster reputation. Both here and in Coles Bay you can take the opportunity to learn how to shuck an oyster correctly and then sample the goods with a great local sparkling wine.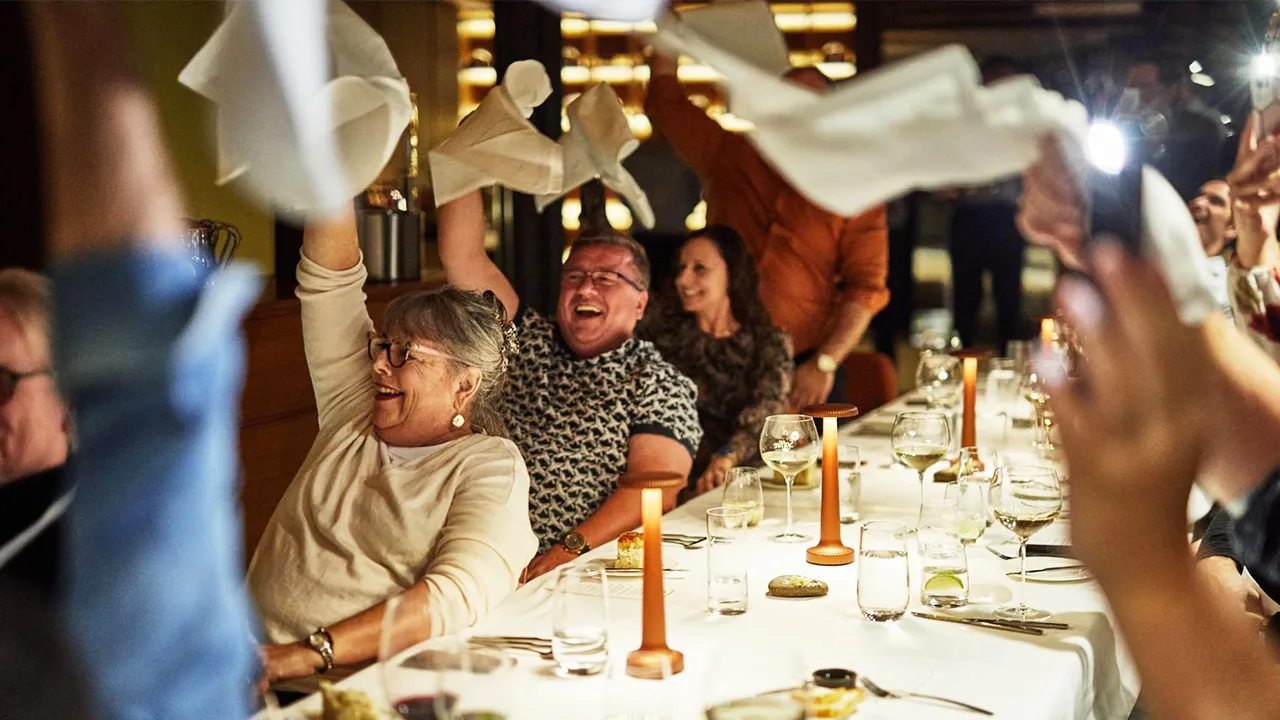 Image: Ultimate Driving Tours
Discover natural beauty and stunning sights
From the island's top to bottom and everywhere in between are incredible natural sights to see. Tasmania is home to some truly unique and diverse landscapes, making it a nature lover's paradise. Although you will get to see a fair amount from behind the wheel of your car, you will surely be eager to step outside and take a walk to soak up some of these locations.
Cradle Mountain
Located in the northwest region of Tasmania, this stunning nature reserve is brimming with wildlife, seemingly untouched nature, and beautiful, varied terrains — from ancient rainforests and wild alpine moorlands to glacial lakes and snow-capped mountain peaks.
Mount Wellington
Mount Wellington is located near Hobart. Summit the peak in a 21-kilometre drive and admire the sub-alpine flora, a lush rainforest, and glacial rock formations along the way before reaching your final destination. It's worth taking your time at the top to truly soak in the spectacular vistas overlooking Hobart, Bruny Island, South Arm, and the Tasman Peninsula from an open viewing platform.
Freycinet National Park
Finally, it's time for the east coast. More specifically, Freycinet National Park where captivating coastal vistas and wildflowers await. One of the park's most iconic outlooks has to be over the beautiful Wineglass Bay with its white sand and turquoise waters — the hike is well worth the views. But it's not all about the coastline below, the sheer magnitude of the Hazards granite mountain range provides a striking and notable backdrop that is rarely out of view.
MONA
Nature isn't the only drawcard Tasmania has to offer, there are also an array of man-made interests to explore. Let's start with one of the most well known, MONA. Owned by David Walsh, MONA is the largest privately funded museum in the southern hemisphere and houses a varied collection of ancient, modern and contemporary art that is designed to spark controversial opinions. In David's words, "we need art, but for what?".
The museum is found on the banks of the River Derwent and comprises three levels of underground galleries. Guests are guided by a custom-built, handheld technology called the 'O', which informs you about each piece on display. It makes for a fully immersive experience.
Port Arthur
For a true look at part of Tasmania's history, we also recommend a trip to Port Arthur. Established in 1830, the area was originally a penal settlement and timber station, but throughout its history, it has been a place of punishment, hardship, great tragedy, but also opportunity. A complicated mosaic if there ever was one.
Extend your adventure at the Australian Grand Prix
While it's a couple of weeks prior to Targa, we would be remiss not to mention the opportunity to add more magic to your luxury motoring adventure by enjoying the F1 Australian Grand Prix. The 2023 dates for the F1 are March 30 - April 2. If this opportunity has caught your eye, we recommend taking a look at our Australian Grand Prix guide to find out more about what's to come.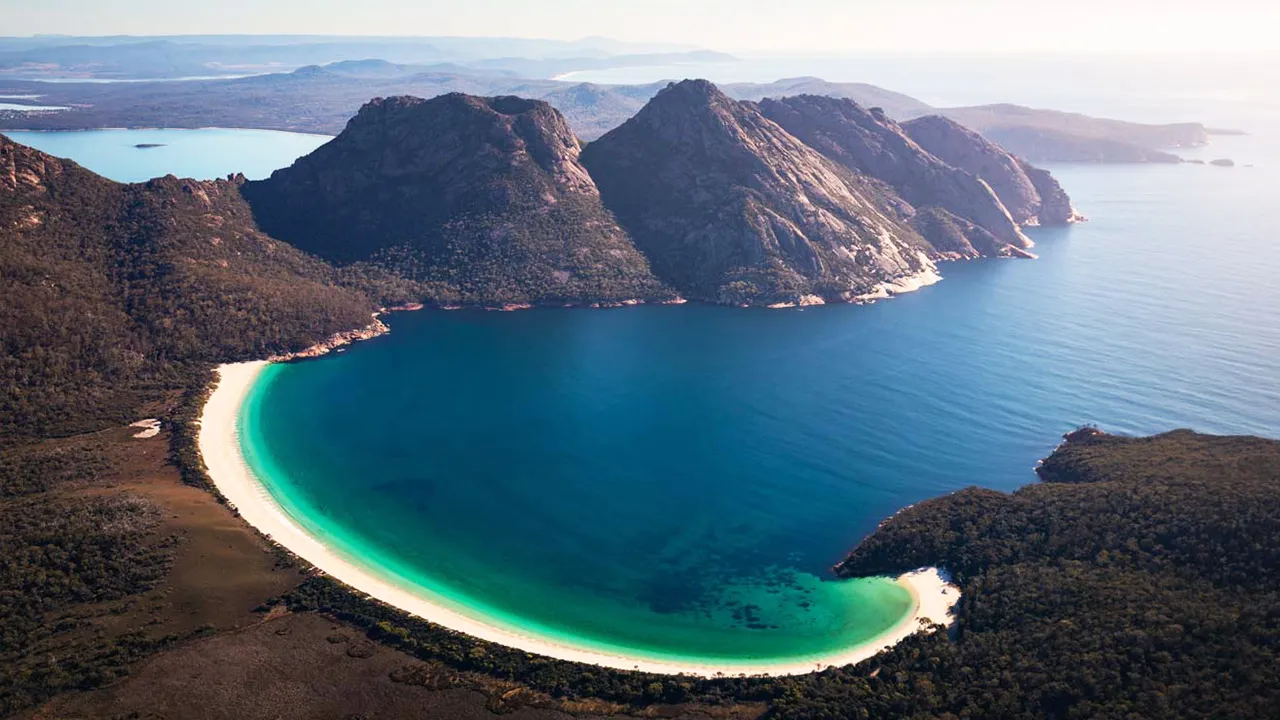 Image: Discover Australia
Enjoy the ultimate Tasmanian driving holiday
So, have you been drawn in by the island and its attractions, or perhaps convinced to take part in the Targa Tasmania tarmac rally, or better yet, our luxury Tasmanian Driving Tour? We hope to welcome you as one of our guests, as part of a small group of like-minded enthusiasts who love to drive, explore, and enjoy the finer things in life.
No matter what your passion is, we're certain this unique and luxurious 'drive your own car' adventure will delight your inner enthusiast and cover all bases in one incredible getaway.
To learn more or discuss our Targa tour in greater detail, please contact our team
---
Share Article