Whether you are on an epicurean journey of the globe or simply want to indulge in a spectacular dining experience, these must-visit restaurants in Europe are sure to satisfy your senses.
From multi-Michelin-starred chefs serving up impeccable dishes to dining rooms with breathtaking views, this article will shine a light on some of Europe's best restaurants, focusing on France, Italy, Switzerland and the UK in particular.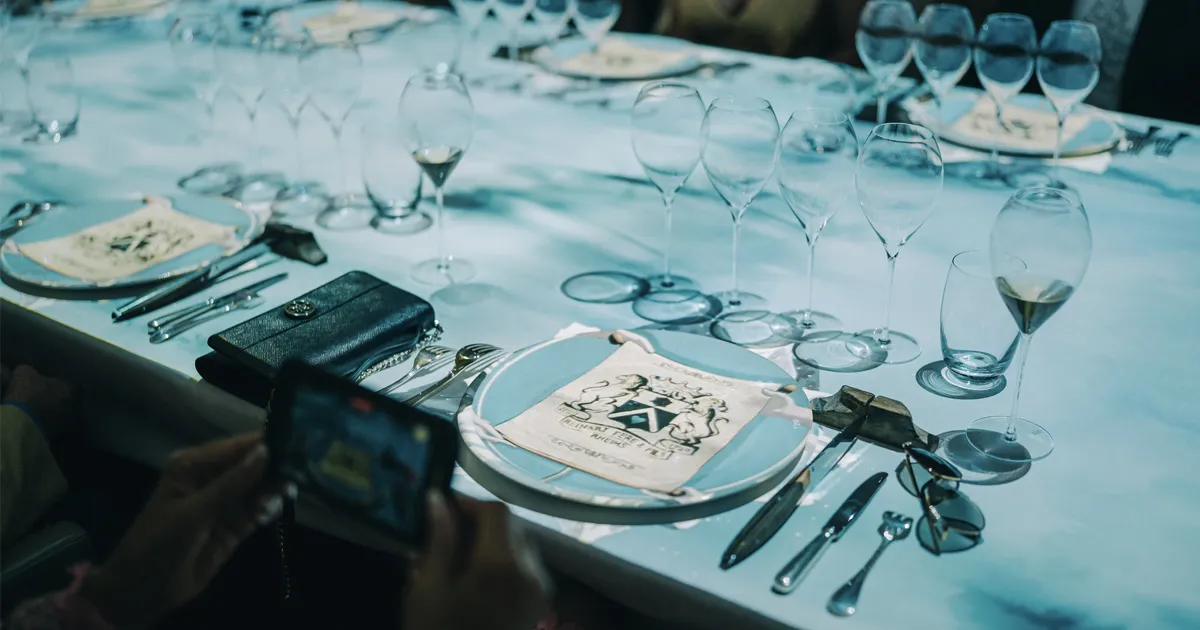 Image: Ultimate Driving Tours
What are some of the most famous restaurants in Europe?
Europe is home to some iconic fine-dining restaurants, many of which are world-famous and have sealed their entries in the culinary history books.
For example, even people with little interest in fine-dining are likely to have heard of Noma in Copenhagen or The Fat Duck in England, which are among the most illustrious restaurants in the world.
The same can be said for L'Auberge du Pont de Collonges – the Holy Grail of French cuisine. This restaurant of superlatives is synonymous with the late great Paul Bocuse, arguably the greatest chef to have ever lived. We have a particular soft spot for L'Auberge, which is why guests on our exceptional Chateaus and Champagne supercar tour enjoy an evening of wining and dining at the restaurant in Lyon.
Some of the most famous restaurants in Europe include:
Geranium (Copenhagen, Denmark)
Disfrutar (Barcelona, Spain)
Osteria Francescana (Modena, Italy)
Mirazur (Provence, France)
DiverXO (Madrid, Spain)
Uliassi (Senigallia, Italy)
The Clove Club (London, UK)
Le Cinq (Paris, France)
Dinner by Heston Blumenthal (London, UK)
Restaurant de l'Hôtel de Ville de Crissier (Crissier, Switzerland)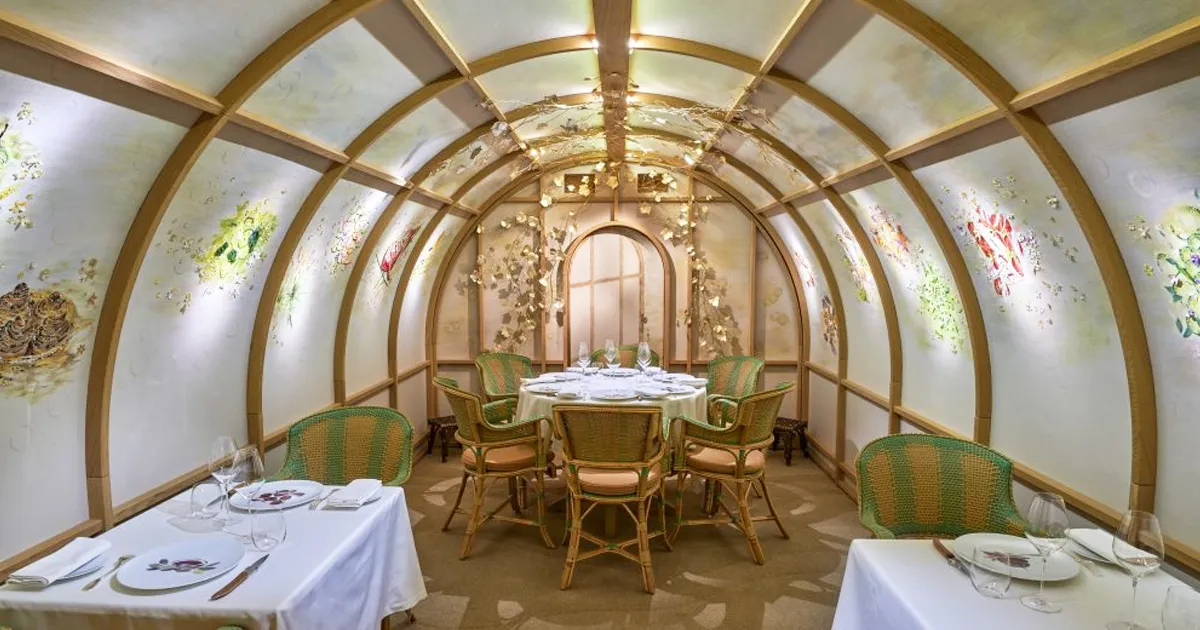 Image: alain-passard.com
Must-visit fine dining and Michelin-starred restaurants in France
As the country with the most Michelin stars (758 at the last count), France is undoubtedly one of the fine-dining capitals of the world – as the following list happily illustrates.
Pierre Gagnaire (Paris)
After Tokyo, the city of Paris boasts the most Michelin stars and Pierre Gagnaire earned three of them for his self-titled restaurant. This modern and modest restaurant is certainly worth a special trip. With multiple constantly changing menus – from the exceptional à la carte to the lunchtime tasting selection – Pierre Gagnaire puts the emphasis on seasonal cuisine using the skills of local fishermen, market gardeners and winegrowers among other native experts.
Arpège (Paris)
Run by Alain Passard, Arpège is another remarkable three-Michelin-starred institution in Paris. This vegetable-focused – although not exclusively vegetarian – establishment builds its menus around fresh produce, harvested from the restaurant's own organic garden, which inevitably gives its dishes unparalleled energy. The Gardener's Lunch is accessible but, if money is no object, then the Terre & Mer tasting menu should be firmly in your sights.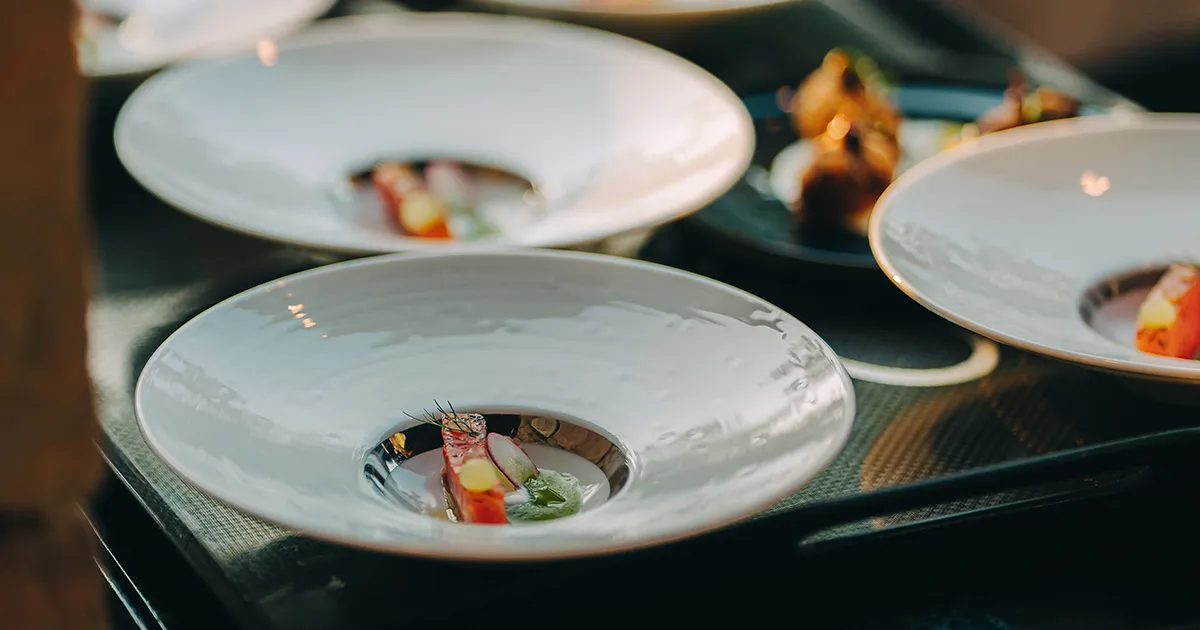 Image: Ultimate Driving Tours
Le Faventia (Tourrettes)
Set in the 750-acre luxury Terre Blanche golf resort, the newly reopened Le Faventia is a hidden gem in Provence. A menu of innovation and playfulness is backed by fresh seasonal ingredients, including herbs grown in the kitchen garden. Le Faventia is as aesthetically pleasing as it is delicious, with an elegant and tranquil dining room and expansive terrace overlooking the countryside, while the artisan table settings designed by a local ceramist are a lovely touch. This attention-to-detail is one of the reasons we dine at this gorgeous restaurant during our luxury Provence driving tour.
Septime (Paris)
The first thing you notice on entering Septime is that the neo-industrial design of this cosy restaurant is a world away from the traditional Art Nouveau interiors of many Parisian establishments. Yet there's nothing laboured about the dishes from a kitchen run by Bertrand Grébaut, formerly of Arpège (see above). As one of the lesser-known Michelin restaurants in Paris, Septime's menu is sophisticated yet unpretentious and surprisingly affordable, although the waiting list for a table is usually no less than three weeks.
Le 1131 (Burgundy)
Le 1131 is a force to be reckoned with in terms of location. Set inside a 12th-century Cistercian abbey in the heart of Burgundy, this intimate restaurant provides diners with a unique setting, complete with vaulted ceilings and ornate stained-glass windows. Yet, it's more than just a pretty face, with Chef François Pelletier conjuring up dishes inspired by the locality, using everything from snails and river fish to honey from the kitchen's garden flowers, while the wine list is just as impressive.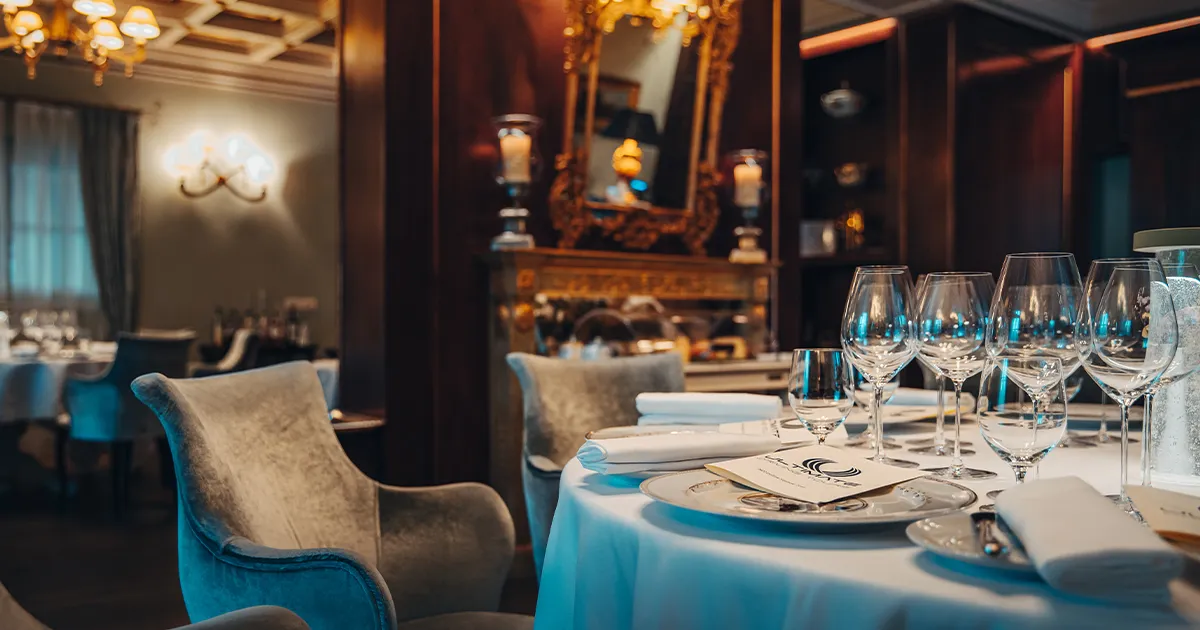 Image: Ultimate Driving Tours
Must-visit boutique and lesser-known restaurants in Italy
Whether a simple pizza or a five-star gourmet experience, it's difficult to find a bad meal in Italy – yet these restaurants take Italian fine-dining to the next level.
La Pergola (Rome)
In the capital of Italy, there is no finer way to enjoy dinner than by watching the sun set over the eternal city. La Pergola offers exactly this and is perfectly positioned on the top floor of the five-star Cavalieri Hilton Hotel to offer sweeping views of Rome. Dishes served in this elegant three-Michelin-starred restaurant are traditionally Italian, but with creative twists that excite as much as the panoramic vistas.
Osteria Francescana (Modena)
In one of Italy's most underrated cities is one of the world's best restaurants, Osteria Francescana – mentioned in our list above. With cherished chef Massimo Bottura in the kitchen, each dish has a story attached and has been created to evoke an emotion. To illustrate, recent menu items have included 'An Eel Swimming up the Po River' and 'The Crunchy Part of the Lasagna'. As intriguing and fun as these dishes sound, there's nothing gimmicky here – as the restaurant's trio of Michelin stars will attest.
Lido 84 (Gardone Riviera)
Regularly seen as one of the top ten restaurants in the world, Lido 84 in Gardone Riviera is something of a masterpiece. This classical restaurant – run by two passionate brothers – offers intimate views of Lake Garda, although the delicate dishes could be served in a shed and the restaurant would still rightly earn its Michelin star! Indulge in gastronomic excellence inspired by traditional Northern Italian cuisine, often delivered to the table by the head chef himself.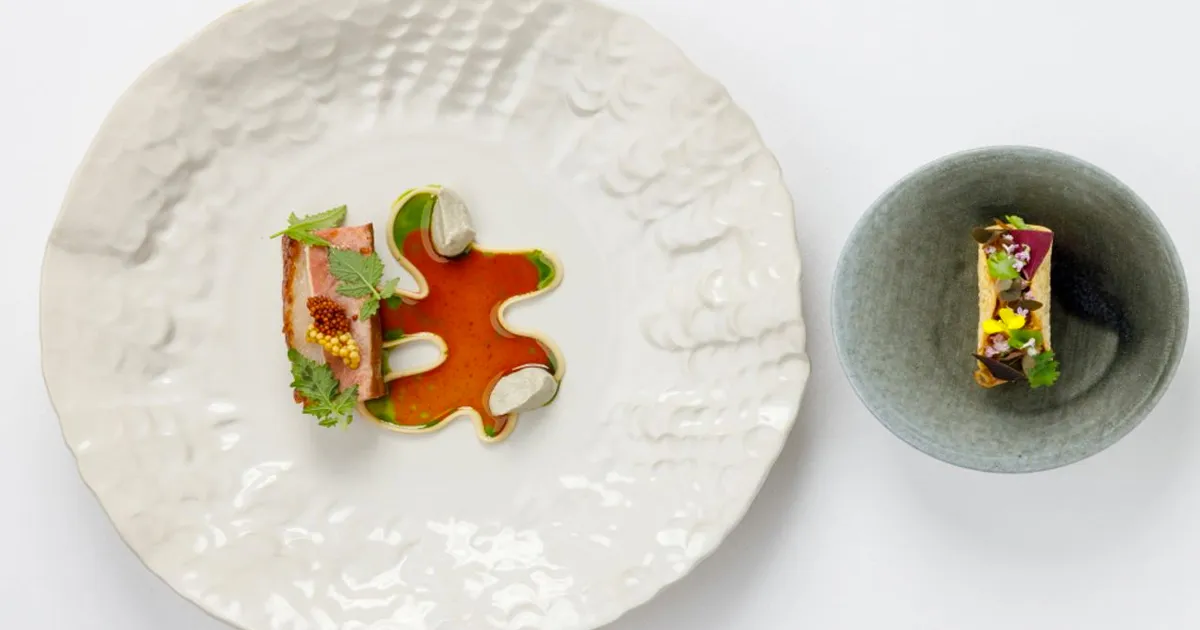 Image: borgosanfelice.it
Poggio Rosso (Castelnuovo Berardenga)
Nestled in the hills of Chianti, inside the mediaeval hamlet of Borgo San Felice, Poggio Rosso is an exclusive Michelin-starred restaurant that we love to visit during our sensational Tuscan supercar driving tour. Despite head chef Juan Camilo Quintero hailing from Colombia, the gourmet dining is very much traditional Tuscan with a sprinkle of South American flair. Enjoy creative and locally sourced dishes in an enchanted dining room, where top-class service is standard.
Primo Restaurant (Lecce)
Humble Southern Italian cuisine and Michelin stars are not phrases that often go together – yet in the beautiful city of Lecce, Primo Restaurant is an epicurean delight that deserves attention. This small and intimate establishment is run by local chef, Solaika Marrocco. Still in her late twenties, Marrocco may be young compared to some of the seasoned veterans on this list, yet her ability to bring bold 21st-century innovation to traditional Pugliese dishes is what makes Primo an essential visit.
Switzerland's best experiential and upscale restaurants
Switzerland has a lot more to offer the culinary world than just fondue and chocolate – as these restaurants demonstrate.
Neue Taverne (Zürich)
In the heart of Zürich, Neue Taverne is a breath of fresh air and a wonderful place to dine when in this world-famous city. This modern restaurant holds one Michelin star for its delightfully imaginative use of market-fresh seasonal vegetables on a vegetable-focused menu, which offers guests a selection of around 12 dishes. Both dinner and the slightly abbreviated lunch menu can be complemented by organic wines, tangy kombucha, and homemade soft drinks, all enjoyed in a light and elegant dining room.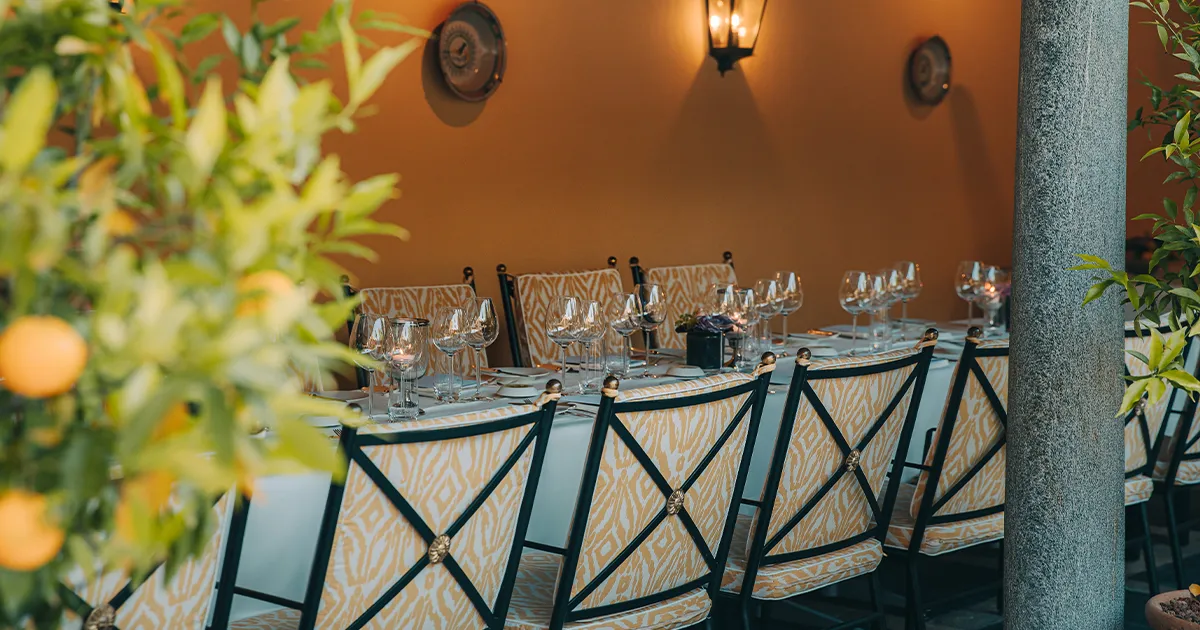 Image: Ultimate Driving Tours
Locanda Barbarossa (Ascona)
Locanda Barbarossa can be found inside the gorgeous Castello del Sole – a five-star hotel surrounded by the Swiss Alps and a private beach. Incredible location aside, the dining at Locanda Barbarossa is nothing short of sensational. With a Michelin star to its name, this serene dining experience offers an extraordinary Mediterranean-influenced menu created by head chef Mattias Roock, using produce grown in the hotel's herb and vegetable garden. Complement your dining with a glass of something special – the wine list is bursting with more than 530 bottles. You can join us on our bucket-list supercar driving tour of Europe, on which we enjoy a fabulous dinner at Locanda Barbarossa.
What are some of the best destination restaurants in the UK?
Modern British cuisine is perhaps less world-famous than neighbouring European countries, yet it's no less delightful. You can expect an elegant reinterpretation of classic hearty dishes, from stews and roasts, to pies and puddings.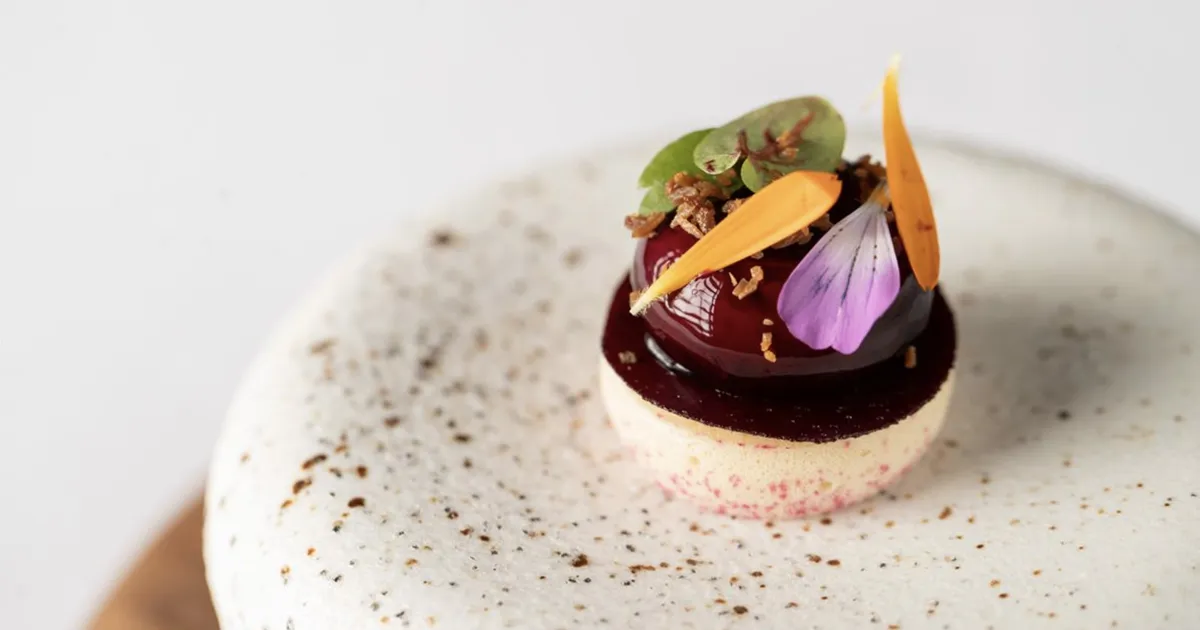 Image: grantleyhall.co.uk
Shaun Rankin (Ripon)
Nestled among 30 acres of pristine parkland in the Yorkshire Dales, Grantley Hall is a magnificent stately manor that is home to a culinary hidden gem from Yorkshire-born chef Shaun Rankin. Named after the chef, this Michelin-starred destination restaurant uses locally sourced and sustainable vegetables, meats and cheeses on an exciting menu served in the height of British elegance. You can enjoy a lavish evening at both Grantley Hall and Shaun Rankin on our luxury supercar tour of England.
Gauthier Soho (London)
In his journey to increase sustainability in his restaurant, Michelin-starred chef Alexis Gauthier reopened Gauthier Soho to be a fully vegan establishment in 2021. Sitting in a three-story townhouse in London's vibrant Soho district, the restaurant offers two exquisite plant-based tasting menus, including an eight-course Grand Dinner. Expect innovative French cuisine, with carefully prepared seasonal vegetables the star of the show.
CORE by Clare Smyth (London)
Last but certainly not least, CORE by Clare Smyth is one of the UK's few restaurants holding the prestigious three Michelin stars. As such, the experience of dining at this Notting Hill establishment is a true joy. Created by one of the world's best female chefs, two tasting menus are available, both showcasing the best of British produce with an abundance of creativity. From the sophisticated yet unstuffy modern dining area to the superb service, everything about this unique restaurant screams quality.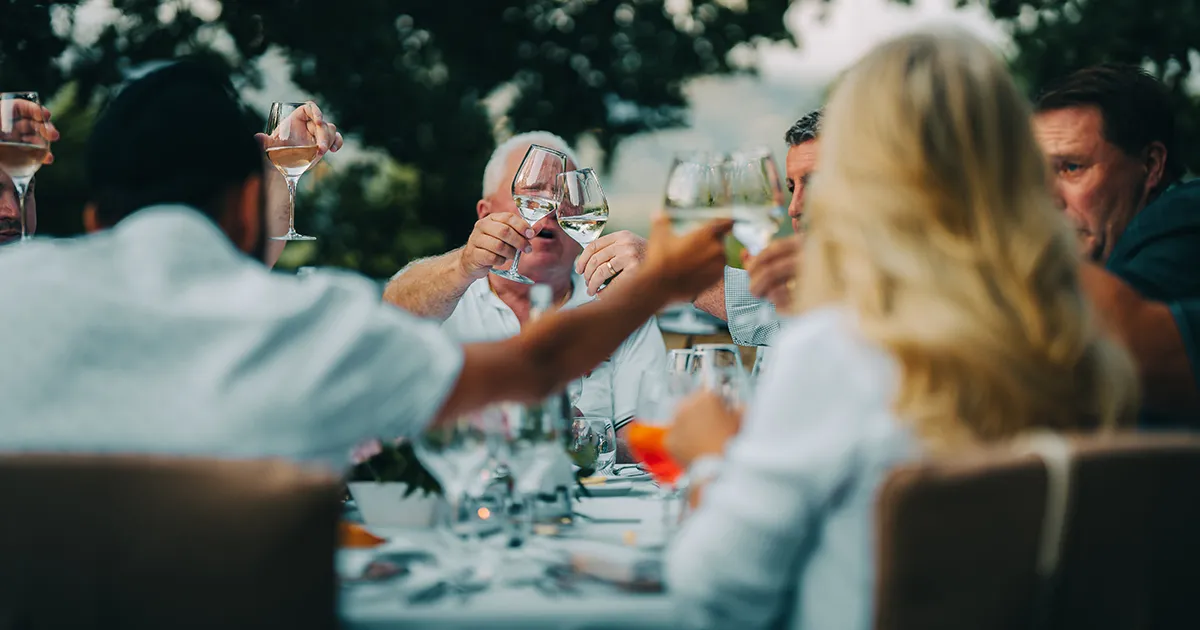 Image: Ultimate Driving Tours
Join us for an incredible epicurean journey through Europe
It's safe to say that there is no shortage of gastronomic delights to be found in Europe. As epicurean adventurers, we love our dining as much as our driving and this is why we select some of Europe's best restaurants on our European luxury driving vacations. Indulge yourself this year – reach out to our friendly team to find out more.
---
Share Article