If you love the idea of driving the world's best roads and staying at some of the world's most beautiful hotels, then you should check out our Alpine Passes Tour.
History was never my strong point at school but I have to admit I have learned so much since we started running tours in Europe.
Over there you find history around every corner and certainly, when we are researching hotels for our tours, we love it when we find a beautiful hotel with a colourful and interestin
Two examples are hotels that we use on the Alpine Passes Tour: Park Hotel Vitznau and Dolder Grand Zurich. While they both look like something from a fairy tale, they're very different and both very special. Both feature amazing food from Michelin star chefs too, but regular readers of this blog already know that incredible food is one of my great passions!
I think every one of our clients has been gobsmacked by the location of the Park Hotel. It's right on the shores of Lake Lucerne so the views are stunning.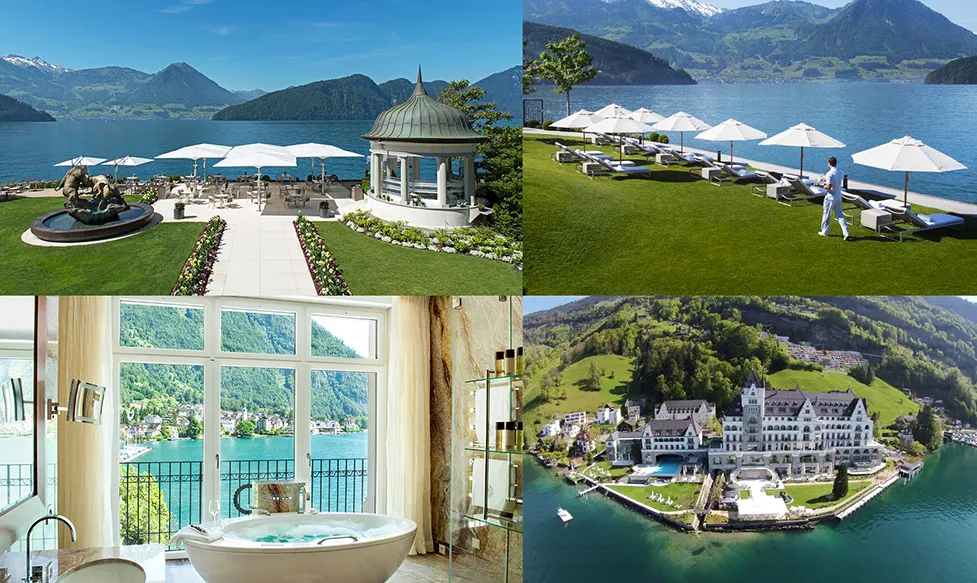 This area started attracting tourists from around 1871, which is when the Vitznau-Rigi Railway opened, and hotelier Josef Anton Bon could see the potential for a luxury hotel on the lakeshore.
He commissioned architect Karl Gottleib Koller, who had already designed and built other glorious hotels in Europe, to come up with something special, and it opened in the spring of 1903.
Surrounded by beautiful gardens, and standing in the shadow of Mount Rigi, the hotel is a wonderful combination of fairy tale façade and modern interior. The pool and its view always amazes, as does the floor-to-ceiling aquarium. It really is a glorious place to stay, and definitely one of our favourites.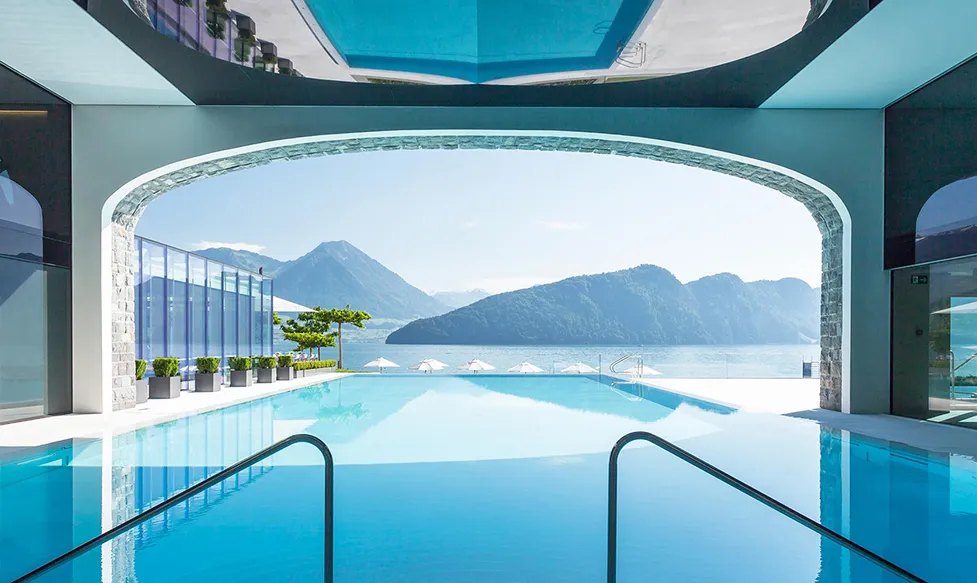 The Dolder Grand is another, although it is a much bigger and less intimate establishment than the Park. However, it does share the concept of stunning locations, as it is situated on a hill two kilometres from the centre of Zurich, and 200m above it, with spectacular views across the city and Lake Zurich.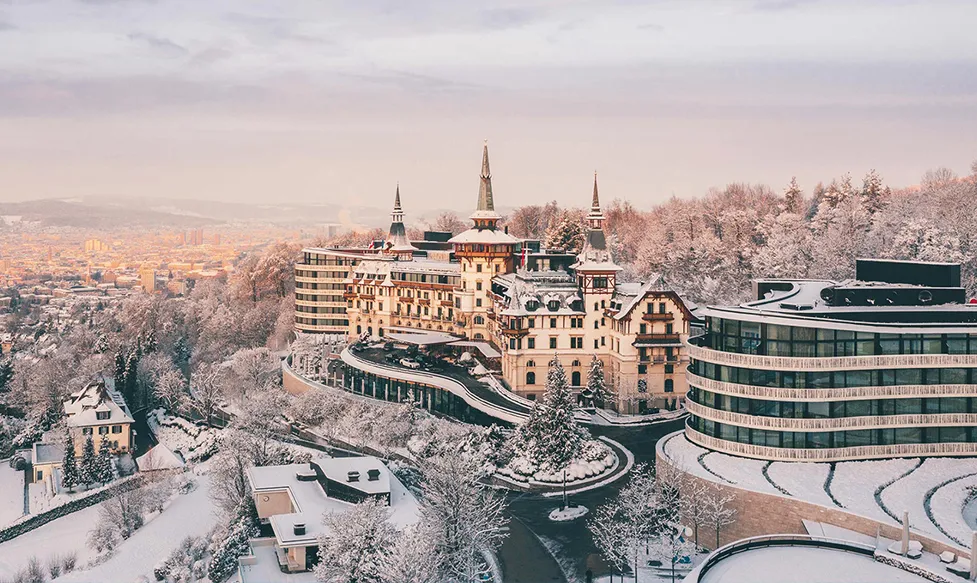 It was built between 1897 and 1899 for the restaurateur Heinrich Hürlimann, and opened in May 1899, its majestic turrets ensuring it would forever be a landmark in the city and a constant attraction. Among the rich and famous who have walked through its doors are Winston Churchill, Sophia Loren and one-time James Bond, Roger Moore.
The interior public areas are all about glorious chandeliers, and huge flower arrangements but it also houses an amazing private collection of works by the likes of Salvador Dali and Henry Moore – and Andy Warhol, who has pride of place above the reception area.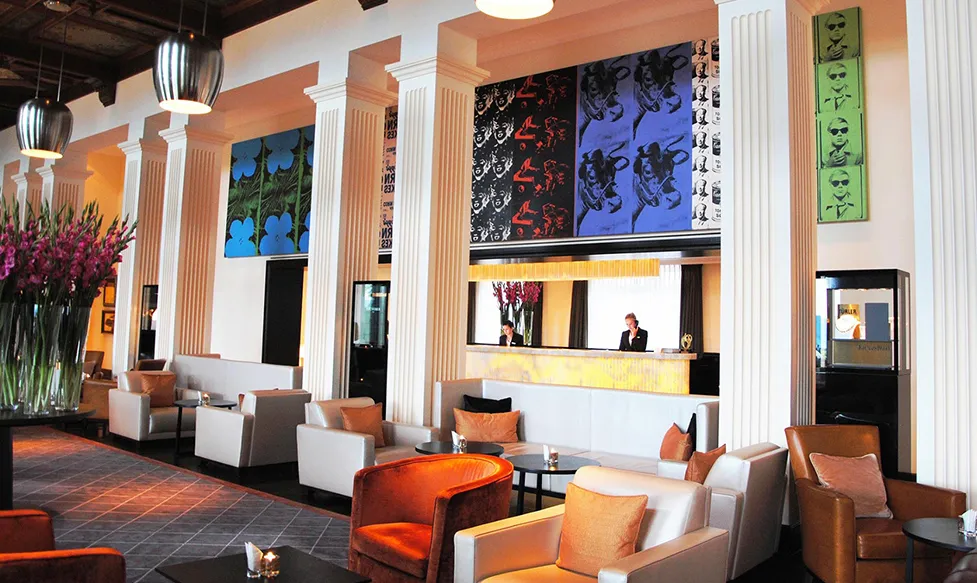 Interestingly, in March this year, the Dolder Grand announced that guests could pay their bills with bitcoin, making it the first luxury hotel in Switzerland to accept the cryptocurrency as payment. It's not the way we pay our bills!
In between stays in these hotels (and others), we spend our time out on the road, driving three of Switzerland's most famous passes – 120km of breathtakingly scenic tarmac known as the Big Three.
The longest of the Big Three is the Susten Pass (46km; 2260m), which features a 300-metre long tunnel at 2224m and offers a great view of the Stein Glacier.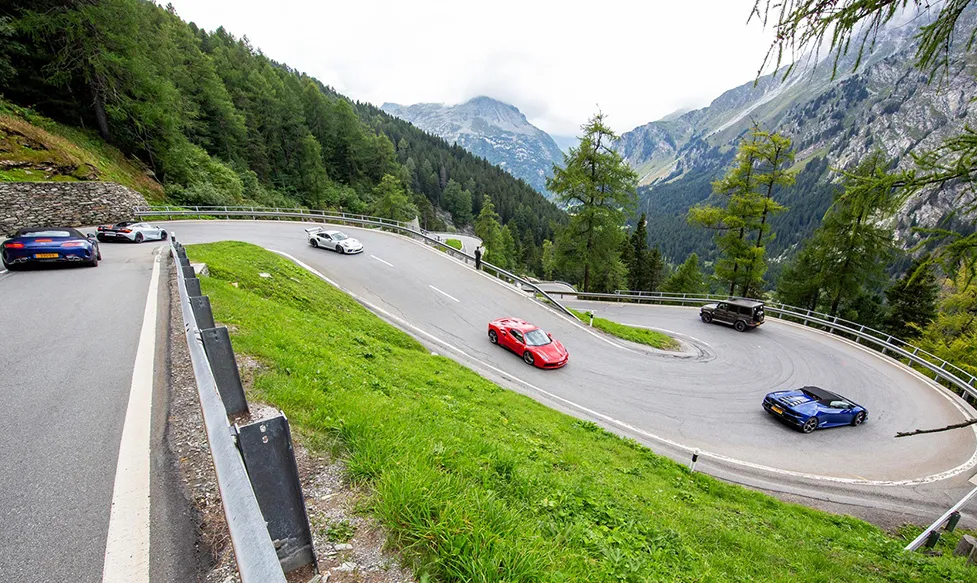 The Susten Pass was initially a mule-train trading route before building work started to turn it into a proper road. The first stretch was opened in 1818 and the rest 100 years later. In 1938, the Susten Pass was modernised to improve public transport, but also for reasons of national defence – Switzerland is a neutral country. It has only been open to private cars since September 1946 and since then it has been a major tourist attraction.
The Susten Pass is listed as a road of national importance in Swiss history, and with 26 bridges and tunnels, it has long been regarded as one of the most beautiful roads in Europe. If it looks familiar, it might be because you are a Porsche fan: Porsche shot scenes of the promotional video for the 2016 911R here.
Another of the famous passes on this tour is Grimsel (38km), which crosses the Bernese Alps at a height of 2164m. It is part of the Aare Route, which is a national cycle route for Switzerland and often used by the Tour de Suisse. The first documented use of the Grimsel Pass dates back to the 14th century although there are also suggestions it was used in Roman times.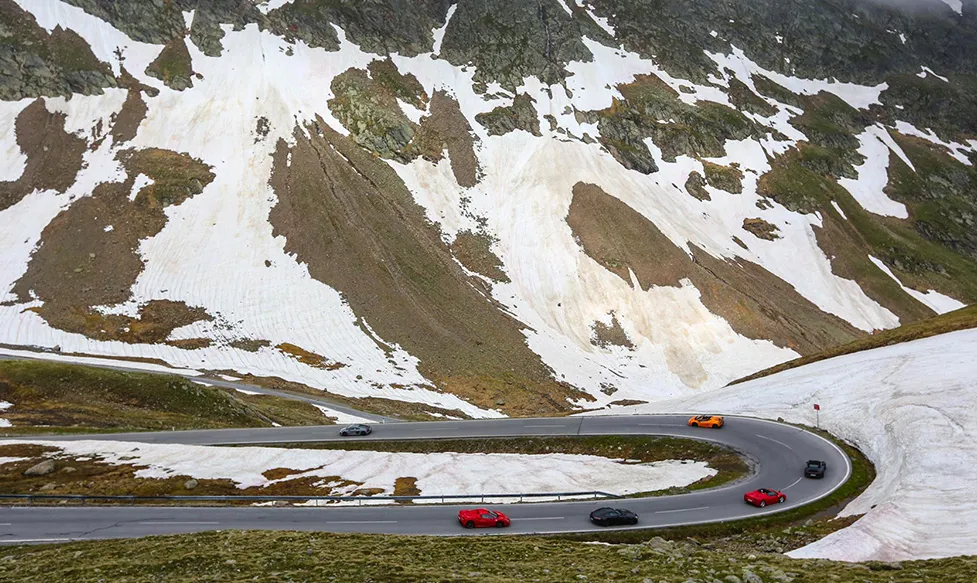 The Furka Pass (40km; 2431m) was built mainly for military reasons but is now noted for scenic views of the Rhône Glacier, source of the Rhône River, and the Bernese and Pennine Alps. It is one of the world's most exhilarating drives and one of the highest mountain roads in the Alps.
If this pass looks familiar, it's because it was immortalised in the James Bond classic, Goldfinger, with the chase between the Aston Martin DB5 and the Ford Mustang. You can make believe as James Bond, because we will have at least one Aston on the fleet for this tour.
You know, just writing about these parts of Switzerland makes me eager to get back there, to drive those spectacular passes again and stay at two of my favourite hotels. Why don't you join us next year?
---
Share Article