Your FAQs About an Ultimate Driving Tour
You asked — we answered. Explore answers to some common queries about how driving tours, travelling groups, and payments work, and learn more about what to expect before and during your incredible luxury journey.
Can't see your question here? Please check our How It Works page for more information. And of course, don't hesitate to get in touch with our dedicated team if you'd prefer to chat with someone. We'd love to hear from you.
Pre-Tour
Which tour should I do?
The hardest part – choosing your Tour! Over the years, we have built a calendar of events based around diverse driving and travel experiences. The Tours vary in terms of location, time of year, and theme. Themes include include length and type of drive (scenic, alpine, etc), food, wine, car marques, historic motoring influences, motorsport, and many more.
If you're not sure which Tour is right for you, please touch base with the team. We'd be happy to chat with you about the options and differences and find the perfect experience for you.
What are the people like on tour?
This is probably our most frequently asked question. And the answer is: they're like you!
Each of the events in our Tour calendar includes a mix of individuals, couples/pairs, and small groups from around the world, the common thread being a passion for adventure, luxury and, of course, driving or motorsport.
Solo drivers are welcome. If you attend on your own, we will always do our best to match you with a like-minded driver.
Please also note, our experiences are not a 'boys Tour' or a party rally; they are gentlemen's and lady's drives, coupled with corporate hospitality packages for motorsport events. Not only do we have many partners join our various drives either as a co-driver or a passenger, we also have many solo female guests as well as female staff.
For insurance purposes and general driving experience, we recommend drivers should be over 30 years of age. Under special circumstances, persons under 30 years of age may be approved to attend a Tour as a driver; however, such persons may be subject to an additional age excess in the event of an incident.
Ultimately, our guests are looking forward to sharing an amazing motoring experience with a group of like-minded people, and many go on to form life-long friendships with people they've met on an Ultimate Driving Tour.
How many cars are on a tour?
We operate small group Tours, with between 12-24 people and 6-12 cars. The average group size is 16 people / 8 cars.
Our group sizes are designed to ensure we are small enough to access exclusive experiences, whether that's a private Tour, or a special charter, but large enough to keep things interesting. They are also large enough to balance a good amount of time in each car as both driver and passenger, but a large enough fleet for you to experience a diverse range of supercars from our fleet.
Are there many couples or other women on tour?
Our Tours are luxury travel experiences for people with an interest in cars/driving/motorsport. Whilst the business of driving is a key feature of our Tours, they are also about enjoying the best accommodation, dining, and experiences the region you are travelling to has to offer.
We are also very specific on ensuring guests understand that our events are not a testosterone fueled boy's trip, nor a drive all day/party all night rally. There are companies and events that offer these types of experiences, which is great, but that is not what our Ultimate Driving Tours are about.
We typically have several wives or partners join our Tours, along with solo female drivers and female staff, and this is the way we like it. So long as your partner is happy to share in the experience, we'd love to have them along!
What is the cost for my partner to attend?
Pricing for the Tours is per person based on two people occupying each vehicle. Typically, the driving is shared between the two occupants who alternate between spending half the time behind the wheel and half the time as navigator.
Should your partner not wish to drive, then you have double the time behind the wheel and they can enjoy the stunning scenery and excitement of being a passenger on the drive.
If you are travelling as a solo driver, you will be paired with another solo driver in the vehicle.
How do I sign up?
To sign up to a Tour, just head to our
contact page
and submit your details. From here one of the team will contact you to finalise the booking and answer any remaining queries you may have.
What's the deposit and how does payment work?
A deposit is required to secure your attendance, followed by payment in full or in instalments. We offer a range of payment options, depending on the timeframe and your preference.
For bookings made 11+ months before an event, you can opt for a 15% deposit and monthly instalments, or a 30% deposit and 3 instalments scheduled 2-3 months apart. For bookings within 11 months of an event, the deposit is 30% with instalments scheduled 1-2 months apart.
Specific payment terms are outlined in our contract, which is available on request.
What are the terms and conditions?
Once participation on a Tour has been confirmed, guests are subject to our terms and conditions. The T&Cs outline the cancellation policy in the unfortunate event you are no longer able to attend, which varies depending on the time (how close we are to the Tour), and the status of the Tour (whether it is sold out/has a wait list).
Our specific T&Cs can be provided on request.
Once on Board
How does it work with Visas?
Valid passports and travel visas are the responsibility of participants, and requirements will vary depending on the destination country and your country of residence. Please consult your government's travel authority to check for requirements and make arrangements as required. We also recommend ensuring you have a valid passport with at least six months remaining to your date of return.
Do you have any advice for arranging flights?
Unless stated as an inclusion, travel to or from a Tour's commencing or concluding location is not included in the Tour's investment. We don't tend to include flights as we have guests joining us from all over the world, each of whom have a myriad of preferences regarding flights, airlines, and travel plans around a Tour.
At your request, we are happy to provide advice or assist with arranging flights.
Can you help with our travel plans around the tour?
Our team is more than happy to provide advice or assistance with your travel plans around the Tour. We have spent extensive time throughout Europe, the USA and Australasia, and have a wealth of suggestions and ideas for where to go and what to do. All you need to do is ask!
Why I need travel insurance? What do I look for?
We believe it is prudent to have travel insurance and require all participants to arrange a comprehensive travel insurance policy after booking and for the duration of your Tour, as well as for any other associated travel plans.
Particular attention should be paid to cover for medical and dental, personal effects, liability, cancellations, and so forth, particularly in light of COVID-19. If you are participating in driving or track activities, you should also make sure your policy affords you adequate cover, particularly in relation to rental vehicle excess.
Please be sure to thoroughly peruse the Policy Disclosure Statement and pay close attention to any exclusions or special conditions that may be applicable.
On Tour
What are the cars like?
Our Tours feature the best and latest supercars, all of which are in immaculate condition. We like to ensure a variety of makes and models to give you the most diverse driving experience possible and to tailor the cars to the Tour theme.
Should you be looking to arrange a bespoke Tour for a group of clients, associates, employees or friends, then you can choose your supercars from our range!
How does the drive work?
Our Tours operate in a loose convoy format of up to ten supercars, with a lead car in front and a sweep car at the rear. The lead and sweep vehicles are operated by professional support drivers, with the lead-follow convoy system ensuring the group stay together and can focus on enjoying the drive rather than worrying about navigation, events on the road ahead, or getting lost.
Each car in the convoy is fitted with a two-way radio system. This system enables everyone in the convoy to communicate with each other. For example:
The lead car will communicate upcoming changes in road or traffic conditions, while participants can communicate any issues to other members of the convoy (e.g. low fuel, rest stop, vehicle issues)
The sweep car can confirm that all cars in the convoy have followed navigation calls, provide assistance to particular vehicles if required, or help out with a variety of other matters (e.g. if you wish to stop for a quick photo). They make sure no one gets lost and the group arrives together.
In addition to assisting with logistics and safety, the radios are a great way for everyone to connect throughout the day and are often a source of endless entertainment for all involved.
Within each supercar, there are two occupants – a driver and a passenger. The passenger's role is to manage communication and navigation, including handling the radio. This ensures the driver can focus on the drive and enjoying the experience.
Participants rotate through each of the supercars on a Tour as both driver and passenger, enjoying equivalent time in each vehicle. For example, participants typically have around three to four hours in each car; half as a driver and half as the passenger. It is important to note, however, that time varies depending on the number of cars in a convoy and the length of the Tour.
What are the roads like?
Our team has spent near on ten years organising and running international Tours based around unique motoring experiences and have decades of combined experience. Over this time, we have traced the best roads that most continents have to offer, including Europe, the Americas, Asia and Australia. From Stelvio to the Med, Miami to California, Tasmania to Queensland, and many more, we have provided hundreds of participants with an unforgettable experience of the best driving roads a destination has to offer.
What happens in the unlikely event of an incident?
Understandably, each supercar is subject to a considerable excess in the event of damage or an accident.
On our side, we implement a number of steps to avoid or mitigate the possibility of anything untoward occurring on Tours. Such steps include minimum driver ages, vetting driver histories, the convoy system, using inter-car communication systems and, where possible, avoiding major cities.
In the unlikely event of an incident, the driver of a vehicle is responsible for that vehicle's insurance excess. To minimise any costs to participants, we not only recommend selecting a policy with high rental vehicle excess cover, we also recommend enquiring with your provider about any options to extend this cover for a small additional premium.
Prior to departure, participants will be made aware of the excess applicable to each vehicle, plus any other charges that may be relevant in the event of an incident.
What about luggage?
As part of our logistics, we provide a luggage van on all Tours. Our luggage van and driver transport your bags between hotels each evening. Our driver also ensures your luggage is placed into your room, ready for your arrival.
During the day, smaller bags and valuables can be transported with the group in the vehicles you drive, or in the lead or follow cars.
Where do we stay and eat?
Now to the important things – accommodation and dining!
We believe the places in which you stay each evening and the restaurants in which you dine should complement your experience. For this reason, accommodation is arranged, wherever possible, at boutique luxury hotels, or unique, 'experiential' accommodation. This includes castles, chateaus, private villas, luxury eco-camps, yachts, lodges, and so forth.
Dinner is a gourmet and social affair where participants can exchange stories over gastronomic cuisine, fine wine, and champagne. This could be at a major award-winning restaurant or a local hidden gem. Breakfasts are included in accommodation packages, while lunch options are a simpler event arranged on route or as part of the day's activity.
Except where stated as an inclusion, the accommodation and dining package is organised per participant and is separate to a Tour's investment. This is because of the diversity of accommodation options and preferences (standard, premium, or suite rooms, and single, twin or double occupancy).
Once confirmed, the accommodation and dining package for each Tour is presented within the brochure of that Tour for your selection.
Would you prefer to talk?
If you'd like to speak with a member of our friendly team, tap the button below to book a call back.
Request a call back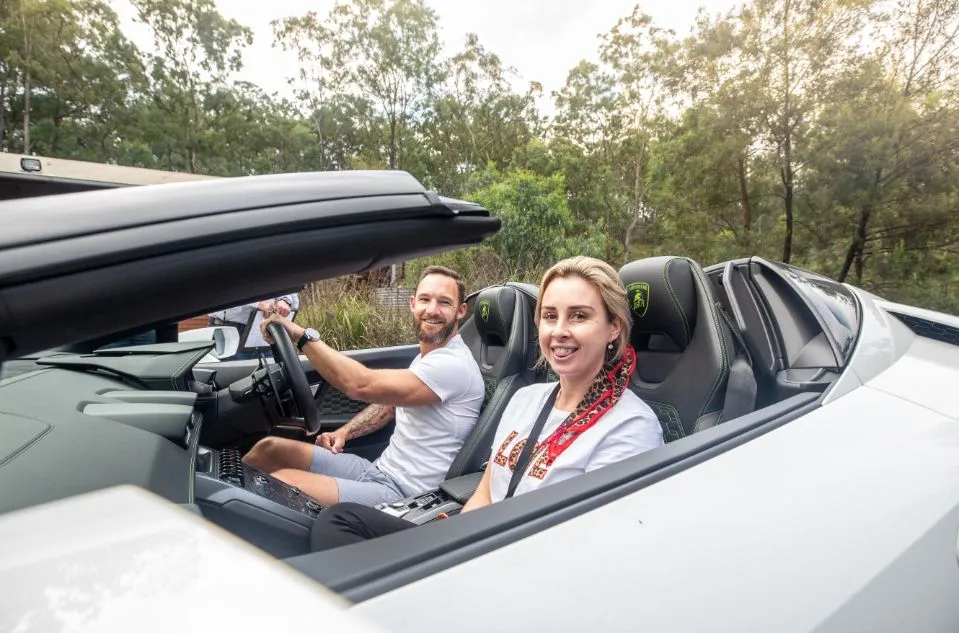 Go Beyond First Class
Create Everlasting Memories

"From the moment you touch down, you feel like a VIP - the accommodation, hospitality, supercars, driving and organization, everything is always beyond first class.

The team are true professionals and make you feel part of the family. Can't wait for my next experience!"

Anthony and Megan, UK

Discover more guest stories
Discover more about Ultimate Driving Tours