There's a reason Swiss mountain passes have become an increasingly popular addition to any European holiday - stunning scenery, exceptional driving experiences, and wonderful stops along the way. But are there some that are more noteworthy than others? With a seemingly endless list of roads throughout Switzerland, it can be difficult to know which are the absolute must-drives. We're here to take you through the best bucket-list-worthy Swiss passes and why we recommend them above the rest. Ready? Let's hit the road.
What are the most famous Swiss mountain passes?
There are several Swiss mountain passes that have earned themselves a spot in the driving hall of fame, and for good reason. While it's hard to go wrong when driving through passes in a superlative supercar, there are definitely several roads you would be remiss to leave out. Fortunately, several of these lead into one another, making it easy to tick off the top spots in one journey.
Below you can find a list of our top 13 Swiss passes (in loose geographic order from the west to east):
Grand Saint Bernard Pass
Simplon Pass
Susten Pass
Grimsel Pass
Furka Pass
Gotthard Pass
Nufenen Pass
San Bernadino Pass
Klausen Pass
Julier Pass
Albula Pass
Bernina
Flüela Pass
There are also a number of lesser-known, but equally enjoyable (and often less busy passes), including Klausen Pass, Albula Pass and Bernina Pass, to name just a few.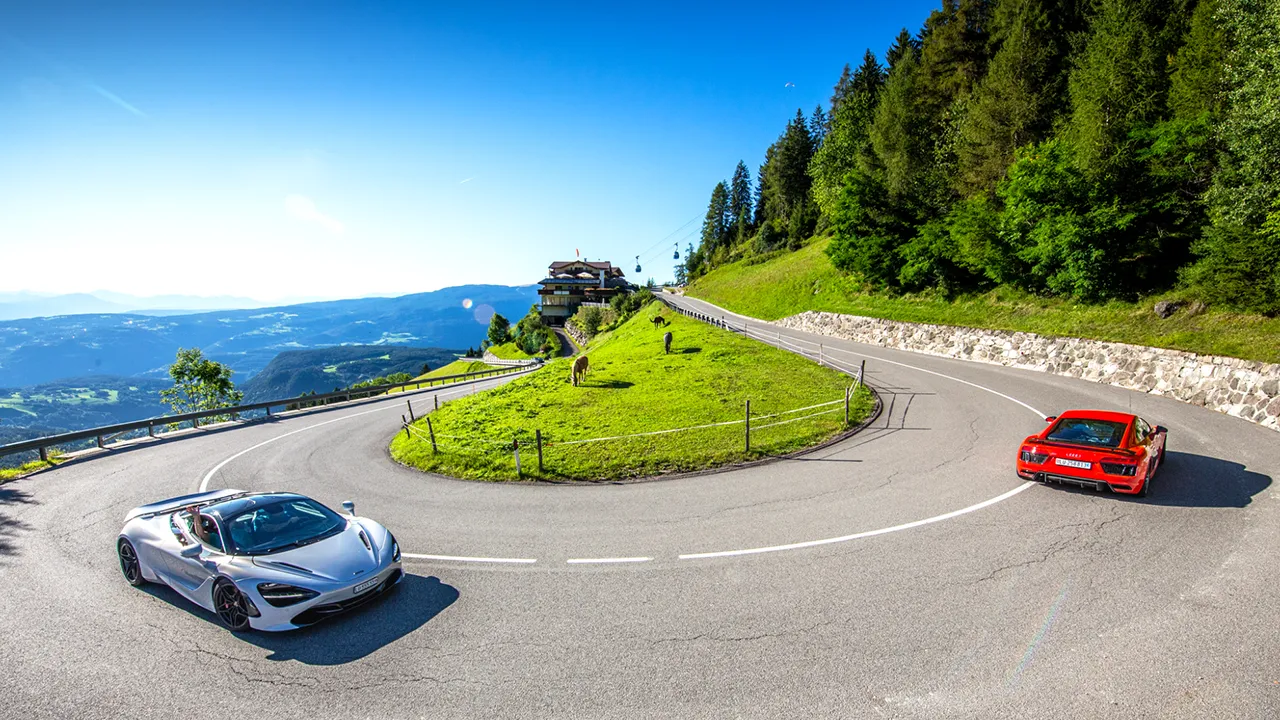 Image: Ultimate Driving Tours
Grand Saint Bernard Pass
The Grand Saint Bernard Pass or Col du Grand-Saint-Bernard, has been incredibly important over the last 3000 years, as it was one of the easiest ways to cross the Alps. Its age makes it one of the oldest passes through the Western Alps.
In 57 BC, The Roman troops crossed the Grand Saint Bernard Pass with Julius Caesar. Years later, another iconic leader, Napoleon, led 46,000 soldiers across his pass in 1800. Its next claim to fame was being featured in the opening scenes of the famous movie, The Italian Job.
This is the perfect pass for drivers who enjoy cruising at a steady speed and soaking in the impressive, sometimes perilous, sights. Once at the summit, enjoy views over a spectacular mountain lake. The summit is also home to a sanctuary founded in 1049, which became famous for its use of Saint Bernard dogs in snow rescues. Later, in the 17th century, the monks that maintained the hospice grounds began selectively breeding and training dogs donated by travellers and nearby towns, which is how the Saint Bernard breed came about.
Simplon Pass
Simplon Pass dates all the way back to the Stone Age. Up until the 17th century, it was used by smugglers and merchants as the narrow Gondo Gorge was deemed impassable by Roman architects.
The Pass was once again Napoleon who started the process of creating a route usable by vehicle, for the purpose of transporting cannons. Over 100 years later, in 1906, a 19 kilometre tunnel was constructed though Simplon Pass and was, until recently, the longest one in the world. Thanks to that, and several protective terraces, the pass can be traversed throughout most of the year.
Built around the topography of the mountain, the road gives drivers the opportunity to navigate sensational, sweeping curves while offering views of a lush, tree-lined valley on the Italian side and spectacular snowy peaks in Switzerland. This is a road built to respect the integrity of the mountain it hugs, instead of for expediency and we suggest driving it that way - at leisure. Cruise its gentle contours, admire the postcard-worthy views, and soak in the engineering feat of the Ganter Bridge, which offers amazing views of the Ganter Valley below.
Susten Pass
Known as part of the 'Big Three' - Susten, Grimsel and Furka - Susten features 30 miles of endless photo opportunities thanks to 26 picture-perfect bridges and tunnels. There's even a waterfall flowing over one of the tunnels, so if there was ever a time to up your Instagram game, this is it. Many a marque has featured the pass and its tunnels in their advertising and marketing material. Perhaps most notably, Porsche used Susten Pass and its tunnels to shoot one of their promotional videos. And while it may not hit televisions, our sensational videography team are always on hand capturing incredible shots so, if you happen to be driving a Porsche along this pass, embrace your inner model for your personal promotional video.
Its origin dates back to the 17th century when Susten Pass was used as a basic trading route for mule trains. In 1811, the pass gained strategic significance for Napoleon and his troops, which was the catalyst for proper construction to commence.
This is without a doubt, one of our guests' favourite routes on the Swiss Alps luxury driving tour.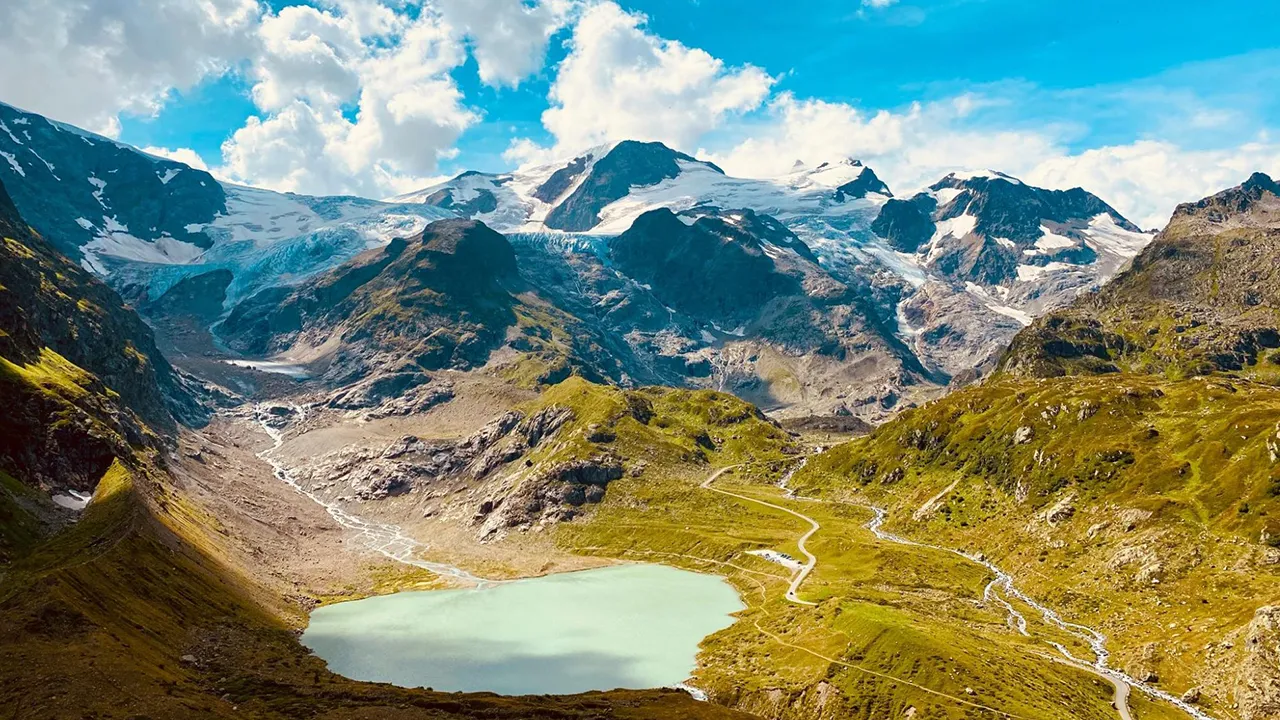 Image: Erik Florin / Unsplash
Grimsel Pass
Journey 24 miles from Gletsch to Meiringen along the exquisite Grimsel Pass. Sitting at 2,164 m above sea level, this alpine passage features some of the most incredible scenery around. Make sure you have time to stop at the top to pause, relax and soak in your surroundings. While you're up there, meander past Oberaarsee (Oberaar Lake) and pop into the small chapel - highly insta-worthy.
On your way down, keep an eye out for Grimselsee (Grimsel Lake). With varying levels of sedimentation, the lake has a highly distinctive colour that gives reason for pause - if we were to paint you a picture, it would start with a striking turquoise colour and then we would add chalk for the cloudy almost sedimentary look you'll see.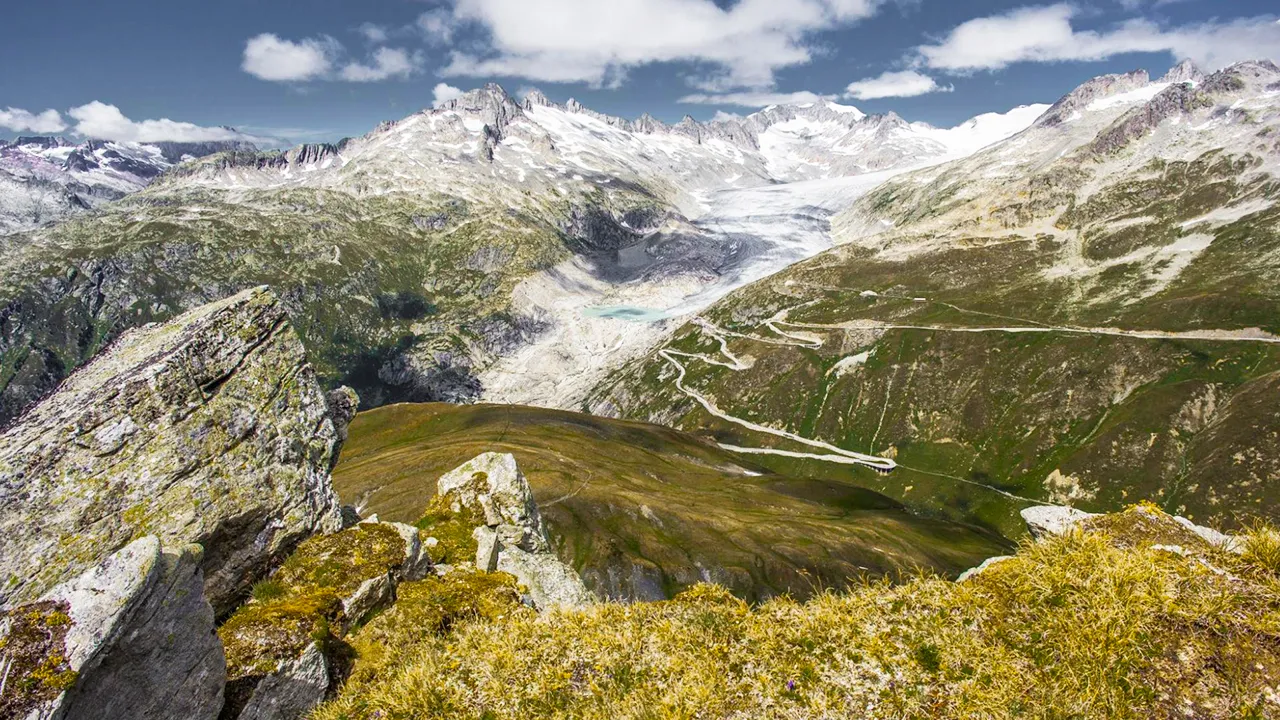 Image: Tom Seger / Unsplash
Furka Pass
Another member of the 'Golden Trio', Furka Pass will either be at the start or the end of your drive, depending on your direction. Journey from Gletsch to Andermatt along Route 19 for 20 miles of lush greenery, snow-capped peaks and quintessentially Swiss scenery. The drive itself is an exciting one as you navigate a total of 48 hairpin bends. That may seem somewhat intimidating but we prefer to think of it as a chance to really enjoy your car's peak performance and handling.
Furka's most significant claim to fame is its appearance in the James Bond movie Goldfinger in 1964. As you tackle the infamous hairpin around this iconic Swiss pass landmark, channel your inner 007 in his Aston Martin DB5 and embrace the power of your supercar - albeit in a slightly less cavalier, escape-ist manner than Mr Bond. Sadly the hotel has now closed but remains the perfect access point for the spectacular Rhône glacier - an icy tunnel that glows in a gorgeous Aqua blue during the day. At around 250 years old, the glacier shows its age in rings around the tunnel, much like that of a tree. Not to be missed!
And If channelling such an icon doesn't make you excited to explore Furka Pass, we don't know what will! Join us for our Swiss supercar tour for the opportunity to see the iconic Belvédère Hotel for yourself.
![The Belvédère Hotel on Furka Pass, famously featured in the James Bond movie Goldfinger](/images/best-swiss-mountain-passes/d-img.webp The iconic Belvédère Hotel on Furka Pass as seen in the James Bond movie, Goldfinger")
Image: Sven Scheuemeier / Unsplash
Gotthard Pass
Prepare for 40 miles of sweeping views and stunning landscapes as you navigate Route 2 from Andermatt to Biasca. Would you believe that Gotthard Pass has been in use since the 1300s? Before 1980, the pass was kept closed during the winter months for safety reasons. However, since the construction of the Gotthard Road Tunnel, the pass is perfectly safe for travellers year-round.
Keep an eye out for the elevated bridge and slow down if you can, it has truly spectacular views and is always a lot of fun to drive. Although the road can be quite a popular driving destination in the summer months, cruising a little slower simply provides more opportunities to admire the scenery.
Nufenen Pass
Introducing the second-highest paved mountain pass in Switzerland. Sitting at 2478 metres above sea level, Nufenen Pass is second only to Umbrail Pass. The varied route connects Ulrichen and Airolo in a series of hairpin bends, long straights and exquisite switchbacks spanning almost 17 miles.
Enjoy spectacular scenery including two small lakes, glaciers, and views across to Finsteraarhorn, the tallest mountain in the Bernese Alps.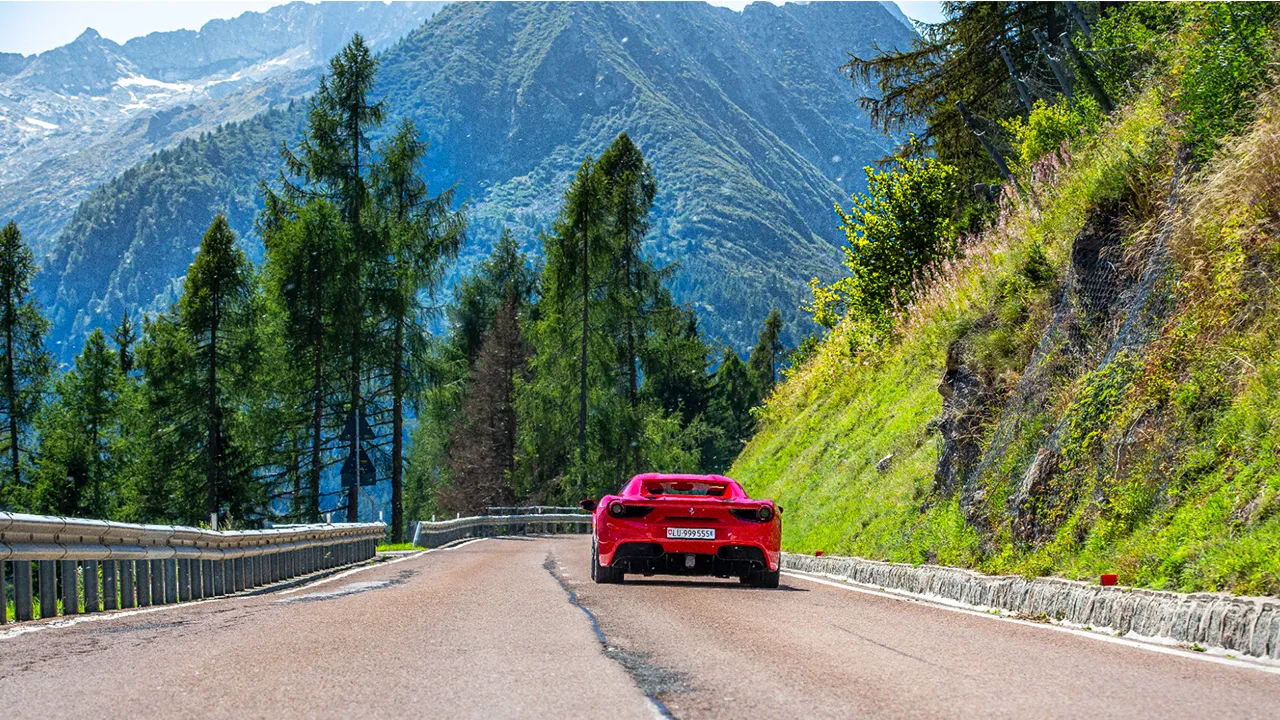 Image: Ultimate Driving Tours
Klausen Pass
Klausen Pass is one of the smallest on this list and connects Uri and Glarus. With an altitude of 1948 meters, it's also one of the lowest. Don't let that deter you, however, as the phrase 'small but mighty' comes to mind. With its unusual terrain and lower-level vantage point beneath the peaks, there's an unmistakable other-worldly feel to this pass.
Featuring over 100 curves and serpentines, Klausen Pass promises a technical and exciting drive. One of our favourite aspects is the first section, as it has maintained its historic cobblestone pavement, serving as a reminder of how tricky it must have been to travel in the past.
San Bernardino Pass
The magnificent San Bernardino Pass is one of the highest paved roads in the world, but unlike its alpine counterparts, it contains less arduous inclines. Its smooth, sweeping tarmac provides no challenge for the raw power of a supercar, and also makes San Bernardino a favourite route with drivers of vintage vehicles. If piloting a supercar through an Alpine pass features on your bucket-list, why not do it with our Swiss self-guided driving tour? It's the perfect opportunity to take things at your own pace and soak in the scenery.
Spanning almost 62 miles with 40 hairpin bends, San Bernardino may sound somewhat intimidating but, in truth, it's the 'gentle giant' of our featured passes and is perfect for less experienced drivers.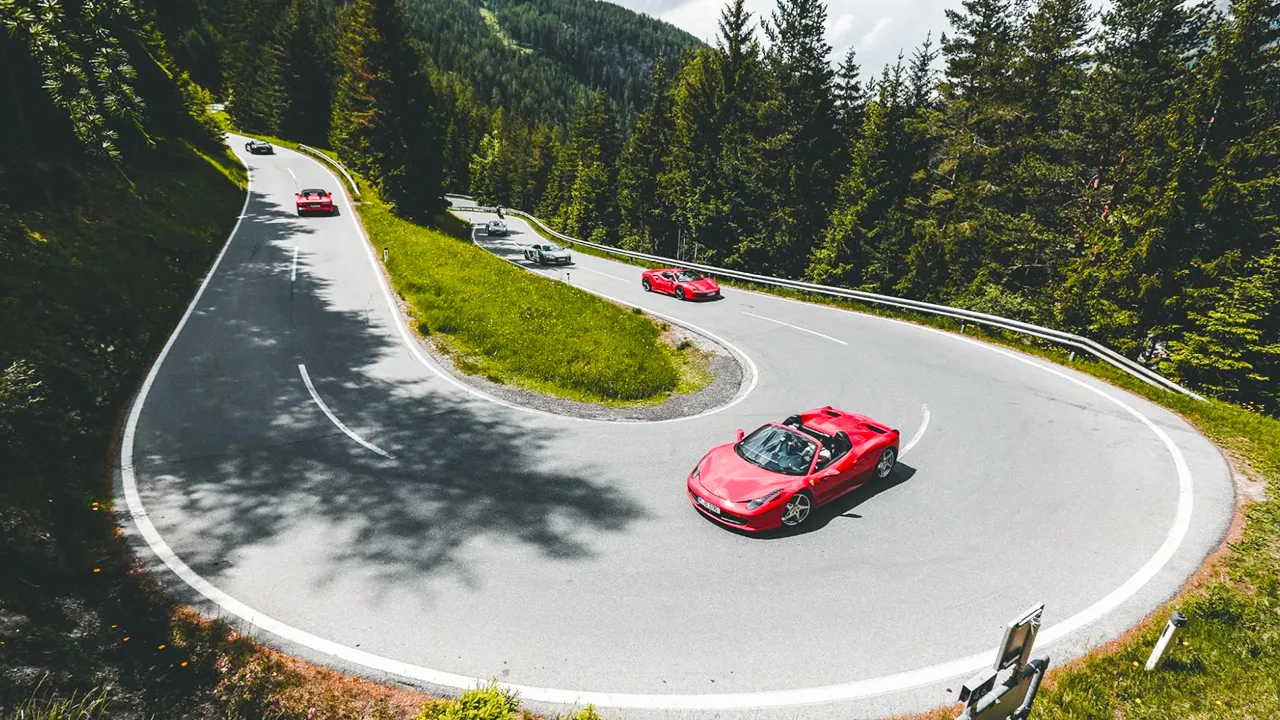 Image: Ultimate Driving Tours
Julier Pass
Originally built in 1820 to connect Engadin valley with the rest of Graubünden, Julier Pass is a superbly scenic old Roman road sitting at 2,284 metres above the sea level. In 2009, the road was revised to reduce the number of serpentine bends and switchbacks to make it easier to navigate.
Lauded as one of Switzerland's most stunning roads, drivers enjoy an enticing mix of long, flat sections and more technical, tight bends, while appreciating the finest scenery in the Albula Range of the Alps. Along your way, discover the unique charm of Switzerland's oldest town, Chur.
Legendary panoramic views and scintillating serpentines, what's not to love?
Albula Pass
Travel along the Albula River for the first part of your journey before climbing a serpent-like cliffside pass up to Berguen. Once here, the road decreases in width and becomes a little less smooth, but is worth every second for the Albula railway viaducts. Don't forget to look out for cows, they're fairly common along this route and can give drivers a bit of a (fun and photo-worthy) surprise, so long as you are prepared.
Upon reaching the peak, another small lake awaits - the perfect destination for you and your camera. If you're not in a rush, there's also a charming spot to stop for coffee.
Flüela Pass
Flüela Pass has previously been named the 'best driving road in the world' by Top Gear, and it's easy to see why. Meandering through quaint valleys and bypassing several characterful villages, the road allows for drivers to get into an easy, smooth rhythm.
The north side of the pass leads to a beautiful coniferous forest before climbing to a near-barren landscape at the peak. Surprisingly, this is the most scenic part of the pass. Be sure to take a few minutes to enjoy panoramic views and the glassy Lake Davos.
We wholeheartedly agree with Top Gear on this one, but Switzerland isn't the only destination with some of the top driving roads in the world. If you'd like to find out more about Europe's top routes, have a look at our recommendations for the best driving roads in the world.
Image: Ultimate Driving Tours
Bernina Pass
Glide along the border of Switzerland and its neighbour, Italy. Bernina Pass is one of the few Alpine Passes that remains open all year, come snow or sunshine. The road winds along the foot of imposing peaks reaching up to 4000 metres above sea level. Hairpin bends, sky-high glaciers, postcard-worthy villages and beautiful blue lakes, it really is the full package.
Keep your eye out for the Bernina Express and its elevated bridge - the highest railway across the Alps. This is undoubtedly one of the most photogenic passes so make time to stop and enjoy the scenery.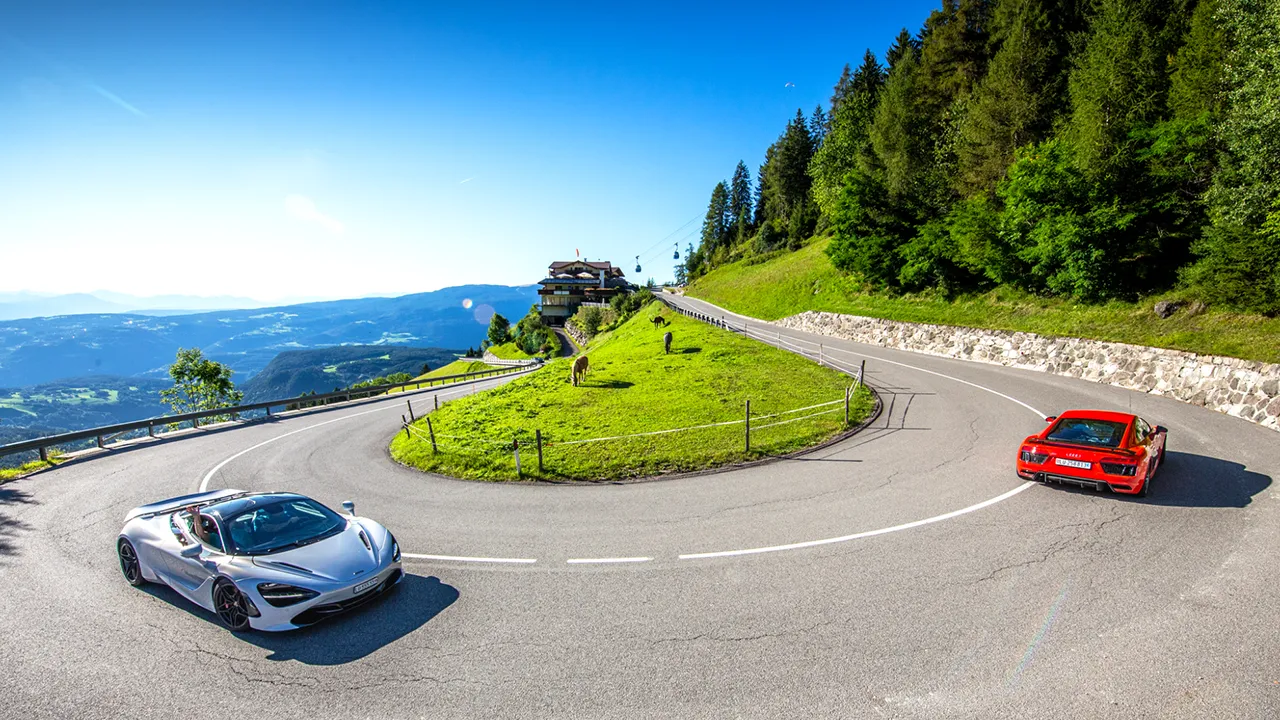 Image: S Ratanak / Unsplash
Wrap up
Switzerland has a stellar selection of wonderful passes just waiting to be explored. As each presents its own unique driving experience, scenery and landscapes, it's near impossible to go wrong with whichever one you choose.
It is worth noting that Switzerland's alpine passes may be closed for several months of the year due to weather, but most are typically drive-able from June to October. In saying that, it's always a good idea to check online, with a number of websites providing real time updates on the status of passes.
If you're unsure about tackling famous Swiss mountain passes alone, why not join us on one of our luxury supercar tours? Join like-minded travellers and have all the details ironed out for you, from five-star accommodation and gourmet cuisine to the fleet of supercars you'll have the opportunity to drive.
Contact our team to book an obligation-free discovery call
---
Share Article