There is no feeling in the world quite like pulling up outside a lavish five-star hotel in an exotic supercar. Some cars have the speed to thrill, some the comfort to cosset, others the power to turn heads. Choosing the best luxury car for road trips and long-distance drives is a highly personal experience. Luckily, we can help. From American muscle and Italian speed to British luxury – we've got the dream machine for all types of supercar road trips.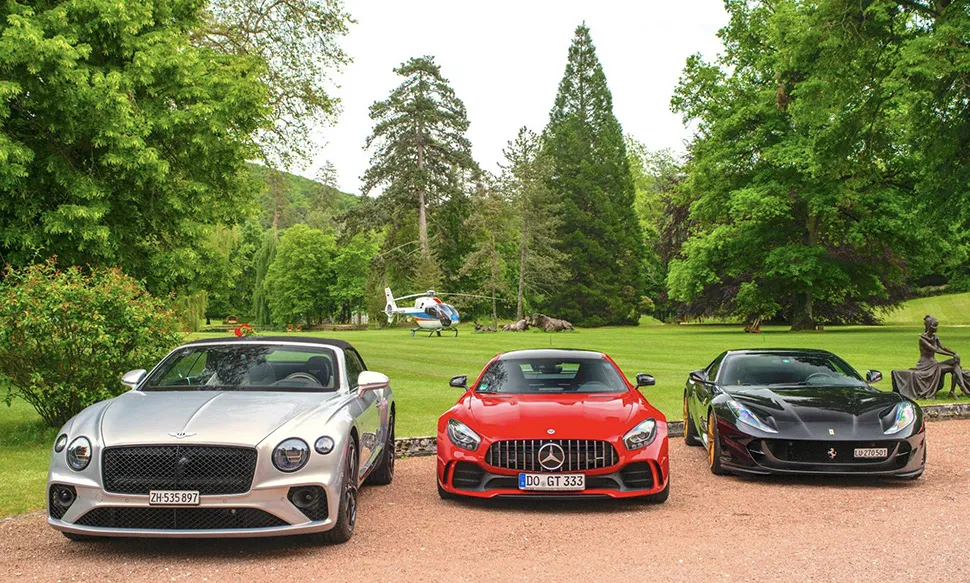 Image: Ultimate Driving Tours
The best sports cars and supercars for road trips
If you're taking a road trip, why not choose an aspirational supercar that offers the ultimate in performance and exhilaration? After all, the car is just as important as the route. Push your driving skills to the limit with our top picks for the best sports car for road trips: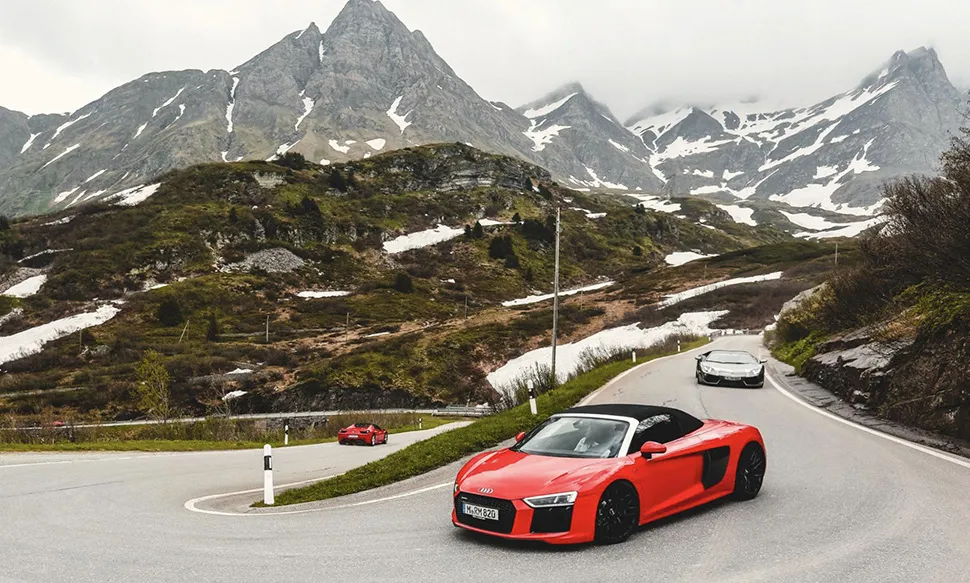 Image: Ultimate Driving Tours
Audi R8
With its sharp good looks and punchy performance, this modern classic is equally at home on the highways or the city streets. Beneath the eye-catching sleek exterior, this 'everyday' supercar handles well and is easy to drive, yet with its throaty roar and powerful acceleration, it still knows how to have fun. No wonder it was Tony Stark's choice of car in the first Iron Man film.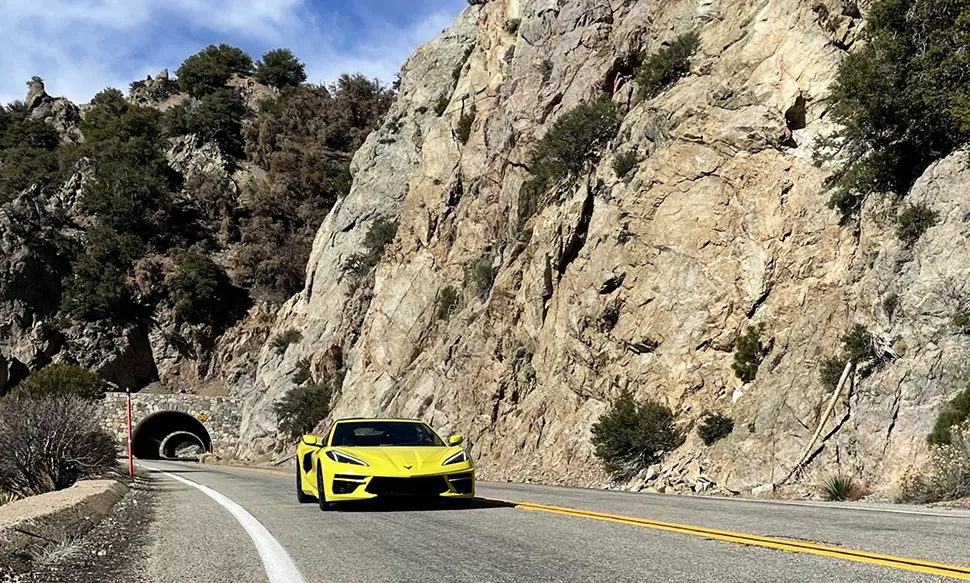 Image: Ultimate Driving Tours
Chevrolet Corvette C8
With appearances in Apollo 13 and Rush Hour, Chevrolets have gained international cult status. The newly-launched and fabulous-looking Chevrolet Corvette C8 is ideal for cruising along the Californian coastline. Take the roof panel off, throw the suitcase in the ample trunk under the bonnet and rocket from nought to 60 in 2.7 seconds. Quirky features such as the cockpit-style interior and square steering wheel add to the Chevy's iconic appeal.
Ferrari Portofino
Named after one of Italy's most beautiful towns, the versatile drop-top Ferrari Portofino delivers elegance, power and sportiness. It may be the fattest convertible in the market, however It is surprisingly comfortable given its incredible performance. There is room for two adults in the back and the Portofino boasts the biggest boot space across the brand. On your next supercar road trip, rev up the unique Ferrari soundtrack and cruise between picturesque, sun-kissed seaside villages all day – roof down and face to the sun.
Lamborghini Huracán Evo
Named after a famous fighting bull, from its muscular curves to the low guttural growl, the Lamborghini Huracán Evo demands attention. Combining Italian design finesse with German engineering, you will find it a delight to drive. Driver beware - it is seriously fast. It's spacious too for a supercar – there's plenty of room for two adults to sit comfortably and stretch their legs and there's a deep boot under the bonnet, ideal for a trip away.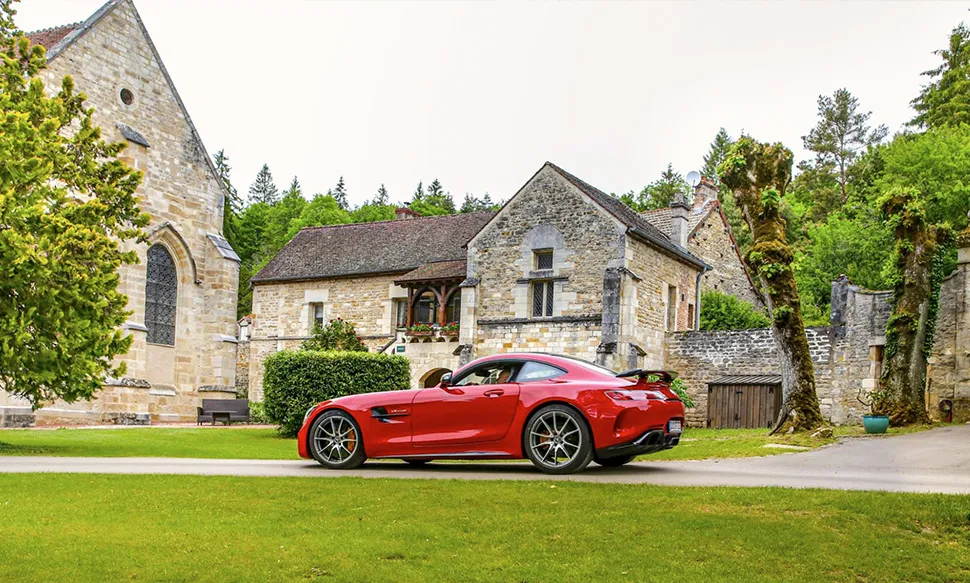 Image: Ultimate Driving Tours
Mercedes-Benz AMG GT
Dynamic and nimble – this two-seater sports car has show-stopping style and sounds amazing. There's all manner of luxurious features inside the cosy cabin, including beautifully contoured heated seats and a high-tech cockpit. However, this car is much more than a smart ride, having achieved impressive Nurburhing lap times. Enjoy comfortable long journeys in a luxury supercar that handles just as well on the twisty, undulating roads of the Swiss Alps, as it does when opened up on the German Autobahn.
McLaren GT
Explosively fast, the exotic McLaren GT will steer you beautifully along the breath-taking hairpins of the Bavarian Alps and the chiselled balcony roads of France. With refined carbon fibre racing seats and dramatic scissor doors, this impressive and enthralling model turns heads wherever it goes. Caution, out of all the luxury fast cars – this one may be too hot to handle!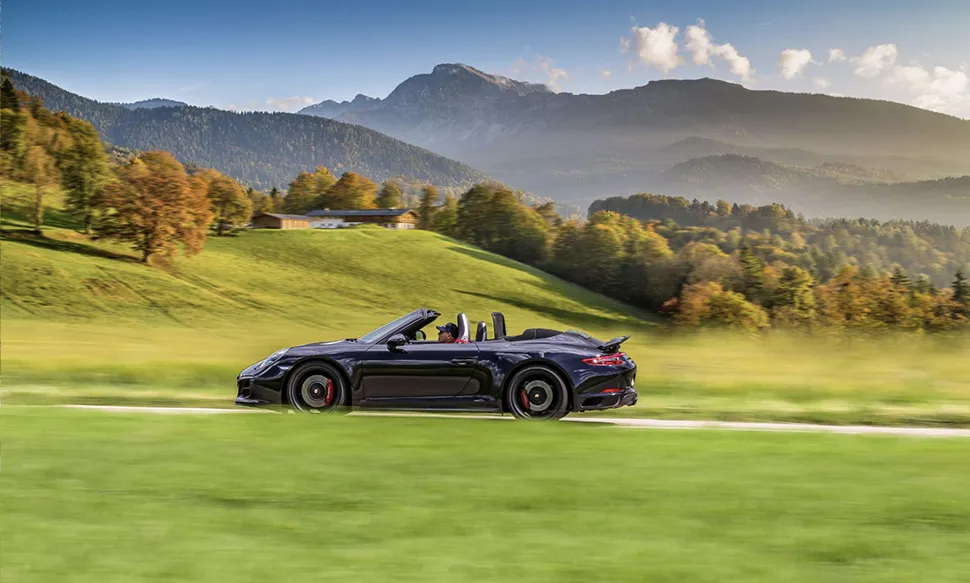 Image: Ultimate Driving Tours
Porsche 911 Turbo
The cabin and exterior of this classic car are utterly timeless. Put this powerful machine in any environment and it will rise to the challenge – from traversing soaring mountain passes, to cruising along balmy Mediterranean coastal highways. Need to overtake? Press the Sport Response button, feel the revs climb and experience an intense power surge for 20 seconds. David Beckham is often seen driving around London in a convertible Porsche 911 Turbo – and he knows how to travel in style!
The best luxury grand touring cars for long-distance driving
With extra luggage space and larger seats, the best luxury grand touring cars make long-distance journeys more relaxing, while still offering excitement on a twisty road. It just so happens that we've got both speed and comfort covered too:
Aston Martin DB11
It's fair to say we would love to be as cool as Bond, and cruising down the French Riviera in the elegant Aston Martin DB11, roof down, is not far off! This seductive car exudes presence and glamour. It performs every bit as well as it looks – it's fast and exciting to drive with the added bonus of exceptional comfort. The Bond-esque auto park assist feature enables this automotive masterpiece to park itself. Q would approve!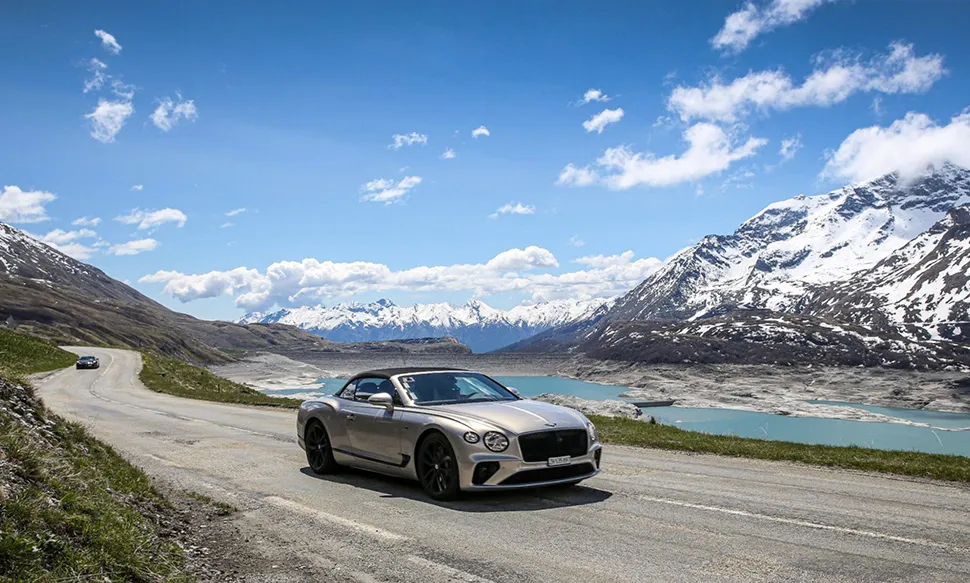 Image: Ultimate Driving Tours
Bentley Continental GT
With heated and cooled massage seats, you can cross continents in the Bentley Continental GT and understand the true meaning of relaxation. This grand tourer combines cutting-edge technology and British craftsmanship with a powerful 650-hp engine. It's fast, exhilarating and oh so sumptuous. You can customise the high resolution touchscreen to show the info you want – or even rotate it to display the classic Bentley analogue dials. Up front, there's loads of room even if you're tall and there's space for two children in the back.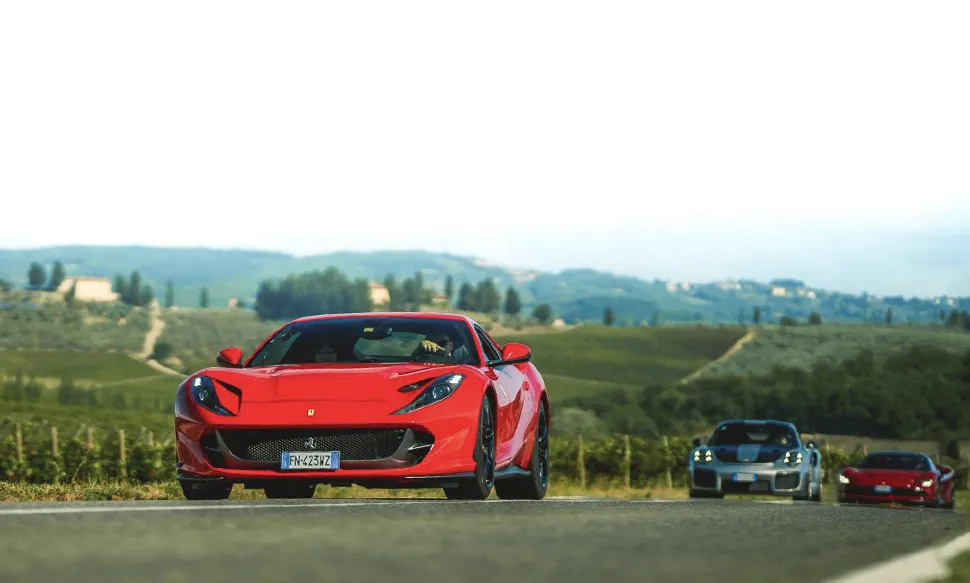 Image: Ultimate Driving Tours
Ferrari 812 Superfast
The aptly named Superfast is an elegant piece of work that handles and sounds as good as it looks. In the Ferrari 812 Superfast, the driver doesn't have all the fun, as the dual-cockpit feature relays navigation and entertainment info to the passenger too. Turn on the 'bumpy road' driving option and rugged countryside roads become as smooth as silk. So how fast is superfast? In this dynamic supercar, you can accelerate from zero to 100 in 2.9 seconds. The perfect machine to roar off into the sunset.
Mercedes SL63 AMG
Legend has it that champion boxer Floyd Mayweather bought a Mercedes-Benz, drove it to an airport and forgot about it! However, there's certainly nothing forgettable about the Mercedes SL63 AMG. What the best luxury performance cars need is an extremely powerful engine, great steering and serious brakes. This classy convertible has it all - even headrests that blow hot air on to your neck to keep you toasty warm when the roof is down. We're confident it could take on Italy's Stelvio Pass and the Dolomites!
Rolls Royce Dawn
Driving along a sun-washed stretch of California's Pacific Coast in a Rolls Royce Dawn is luxury at its best. Striking and classic, this is the only drop-top that Rolls Royce delivers. It has everything you could desire in a soft-top cruiser – speed, plush leather heated seats and access to all the blue sky you'd ever want. There's even enough space for the kids in the back. If the Great Gatsby had been set in present times, we're convinced that Leonardo di Caprio would have been driving one of these sensational models. In fact Rolls Royce proclaim the Dawn as "the sexiest Rolls-Royce ever built".
The most comfortable luxury cars for road trips
Command the road from up high and experience the immense comfort of a high-performance SUV. If you're looking for all-terrain versatility, along with more space for both passengers and luggage, here are our choices for the most comfortable luxury cars:
Bentley Bentagya
Open the door and inhale the aroma of lashings of leather and expensive walnut in this uber-luxurious SUV. In this 'statement car' you could relish every twist and turn of the Poconos Mountains in the US, or the lazy, leafy lanes of the Hudson Valley. With touch-screen rear-seat entertainment screens that can be removed and used as tablets, back seat passengers will relish having their own entertainment. And we haven't even talked about the head-turning glory of this lavish force of nature.
Lamborghini Urus
One of the world's fastest SUVs; navigating the breath-taking mountain scenery of the Swiss Alps is a breeze in this large five-door family car. Cool cockpit features, including the red ignition button and jet fighter-style shifter add to the drama of the driving experience. With its spacious interior, the Lamborghini Urus accommodates everyone in unparalleled comfort and makes off-road travel a luxury. Throw the skis in the boot, buckle the kids in and hit the road for an alpine adventure.
Mercedes G Wagon
If you're seeking a sexy and statement SUV with all the modern specs and plenty of space for four adults, the Mercedes G Wagon is your dream machine. While you may not be performing chase scenes like the G Wagon in The Matrix Resurrections, this is an excellent choice for any epic journey. You will also find it handles exceptionally well on imperfect roads. Fast and furious with precise German engineering – be prepared for an adrenaline rush with head turning styling to boot. This car waits for no one!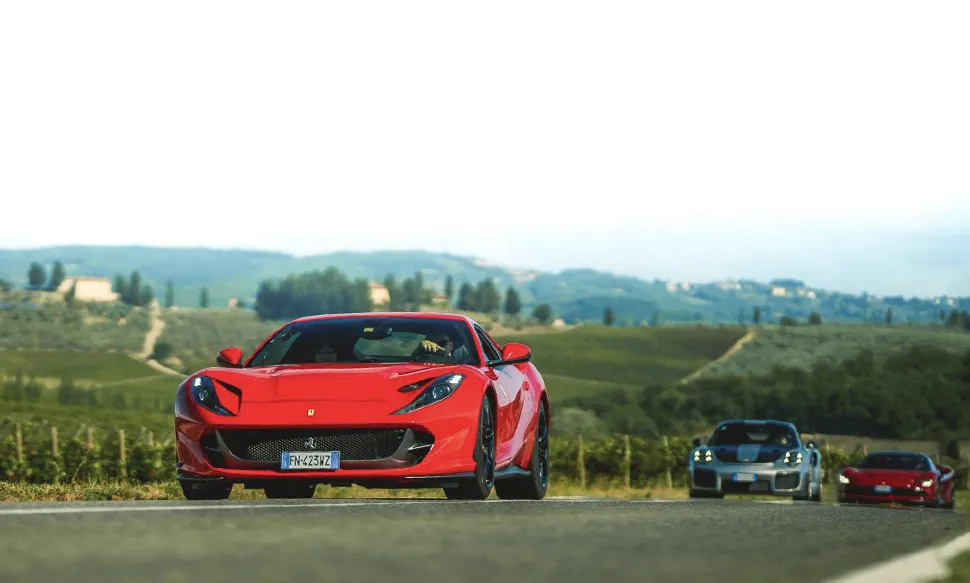 Image: Ultimate Driving Tours
Final Thoughts
There is an incredible selection of luxury fast cars just waiting to be driven. As each presents its own unique driving experience, it is impossible to go wrong with whichever you choose. The answer really depends on your personal choice. Do you want speed over comfort? Are you heading to a location to pit your driving abilities against the terrain, or do you just plan to meander from vineyard to village? Are you travelling with your partner or a friend, or perhaps the family? Will you just pack a toothbrush or do you need space for suitcases, skis and more?
The prospect of climbing into your chosen set of wheels each day needs to excite you and ensure you arrive at your destination with a wide smile on your face. All these factors will influence your requirements and help determine whether a supercar, GT or SUV best suits your requirements.
Drive one of these spectacular supercars on one of our self-drive holidays. Each journey is perfectly crafted and comes paired with the supercar of your choice. Or enjoy a curated series of our fleet, back-to-back on our fully hosted luxury driving tours and experience them all!
If you're not sure which best suits you, contact our friendly team for advice and information.
---
Share Article